Sunset Crater Visitor Info
This volcano was created through a beautiful waterfall of glowing cinders that erupted from the ground about 900 years ago. This natural phenomenon created a crater-like structure of cinders and lava flows that sits amongst a ponderosa pine forest. For those of you unfamiliar with cinders they are small volcanic rocks that combined make a rough but sand-like concoction. When hiking it may feel like walking through sand but be wary. These cinders and lava flows are rough and don't feel good to take a tumble into.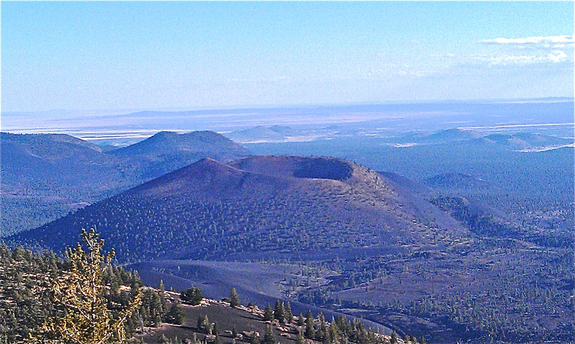 Photo Credit: LiveScience.com
The area encompasses 4.75 mi² of land and reaches 8,041 feet in elevation where you get a panoramic view of the area. There are hiking tours of the crater available that range from strenuous to easy so that all may enjoy this natural creation. Please call the park for tour schedules at (928) 526-0502. If you prefer to stay in the car there is a scenic loop that allows you to view the whole park in about an hour. It is open all year round. If you have any questions there is a Sunset Crater Volcano Visitor Center that is open all year as well, except on December 25. One last thing to be aware of would be their pet policy. Unfortunately, pets are not allowed in the monument or buildings, only in the parking lot. So sadly you will want to leave your furry, four-legged friends behind for this adventure. Overall Sunset Crater is an intriguing natural creation worth exploring.
Visitor Information for Sunset Crater
Fees and Passes

(Covers entrance to Sunset Crater and Wupatki National Monument for 7 days)
$20.00 per passenger vehicle
$15.00 per motorcycle
$10.00 per cyclist or pedestrian *annual pass is $40*
Operating Hours:

November–May: 9AM until 5PM
May–October: 8AM until 5PM
FREE Park Days:

Martin Luther King Jr. Day
National Park Week
National Park Service Birthday
National Public Lands Day
Veterans Day
How to Get There:

From Flagstaff it takes 30 min to get to Sunset Crater. The directions are to take U.S. 89 north for 12 miles (19km), turn right on the Sunset Crater - Wupatki Loop road and continue 2 miles (3km) to the visitor center at 6082 Sunset Crater Road, Flagstaff AZ, 86004.
*There is no public transportation into the park*
---
MORE THINGS TO SEE NEAR FLAGSTAFF
---
---
---
---
---
---
---
---
---
---
---
---
---
---
---
---
---
---
---
---
---
---
---
---