Historical Hiking Trails in Flagstaff
Flagstaff is chock-full of amazing trails to hike, mountain bike or run with your dog. If your time in Flagstaff is limited and you must choose a trail, these historical Flagstaff hiking trails are a great place to start. Not only do they have great stories behind them, but they're visually stunning as well. There are easy to difficult hikes on this list, and all of them are pet-friendly. Just brush up on your trail rules as you'll find people hiking, running, biking and even on horseback on most of Flagstaff's trails.
1) Veit Springs Trail AKA Lamar Haines Trail Loop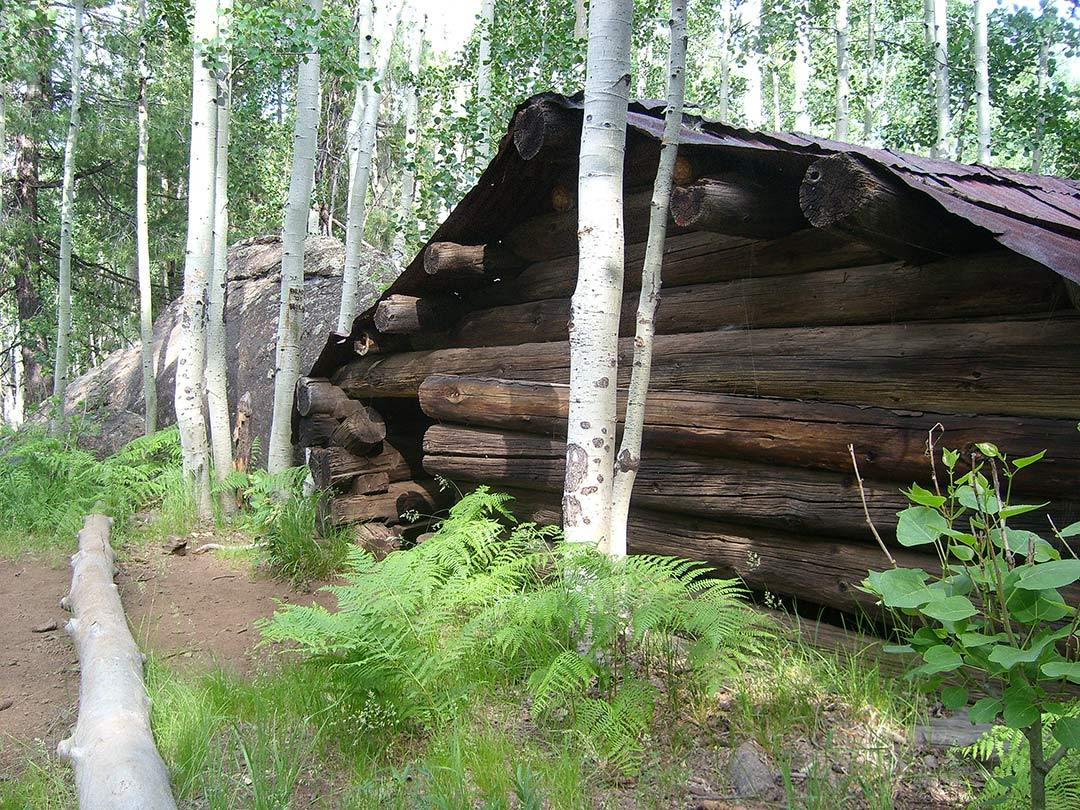 Photo Credit: Territory Supply
Home to Charles Ludwig Veit, who received rights to the 160-acre parcel in 1891, this historical Flagstaff trail began as an area that was his and his family's home for over 2 decades. Veit used to help haul water via oxen to the early Flagstaff village and would stop to deliver water to any homes or buildings that would have a stick by the side of the road with a white flag on it. This land was also the supposed drop-off site for a local gang of stagecoach robbers before Veit bought it. Veit supposedly spent many years looking for where they buried their treasure. It was sold to the Jenks family in 1928 and their cabin site is marked with a sign of where it used to stand. It was bought by the Arizona Game and Fish department for $1 in 1948 and turned into a wildlife refuge and hiking trail. This Veit Springs Trail is a popular, summer Flagstaff hike that is a great, easy hike - perfect to do with kids and the dogs! Halfway up the mountain between Fort Valley Road and Arizona Snowbowl, it winds through an animal wildlife-viewing park dedicated to the late Lamar Haines, a popular conservationist in Flagstaff. This trail has something for everyone and is a great expression of Flagstaff. It is only approximately It's only 1.6 miles long with 206 feet of elevation gain making it a great after school stroll or pre-dinner hike. With a run-down cabin (used for sheep back in the day) and another cabin site next to a still-flowing spring, it makes the trail more than just a hike with beautiful views. It's seeping in history and has beautiful views!
Open Season: Year-round
Usage: Moderate
Location:
9300 N Snow Bowl Rd Flagstaff, AZ 86001
2) Weatherford Trail (#102)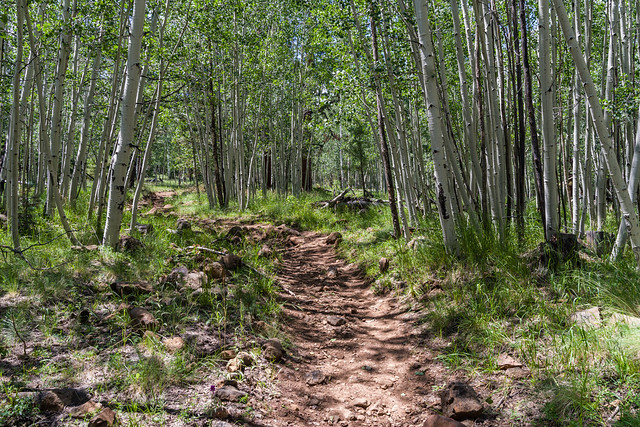 Photo Credit: US Forest Service
Originally created and built by Texan, J.W. Weatherford, this historical Flagstaff trail was a sightseeing toll-road for old Model T's to the top of Doyle Saddle. Its construction was started in 1920 and completed in 1926. It was intended to continue on to Humphrey's saddle, but the Great Depression hit and that idea was abandoned. It was eventually closed to all cars in 1984. J.W. Weatherford was a businessman in Flagstaff, but also served as a deputy sheriff for the town and built the well-known Weatherford Hotel, as well as the opera house, which is now known as the Orpheum. This trail starts just north of Shultz Tank (a 6-mile drive north of town) and makes its way up the mountains offering amazing views, which are said to extend over 50 miles to Oak Creek Canyon. This 7-mile hike one way is one you'll want to set aside an entire day for. And remember, the top of Doyle Saddle is designated wilderness, so don't take anything from there, pick up your trash, and no camping. Also, don't attempt to drive up this trail. It is a footpath in some areas; even today's most modern off-road vehicles wouldn't make it very far! It is a steady climb upward, but as you hike just imagine having a Side Car at the top of Doyle Saddle in the roaring 20's. That should give you the motivation to get to the top! This trail connects to the Inner Basin Trail and Humphrey's Trail if you want an even longer adventure with miles.
Open Season: May - November
Usage: Medium
Location: Drive 2 miles north of Flagstaff on US 180 to FR 420 (Schultz Pass Road). Turn left at the intersection with FR 557. Continue on FR 420 for 6 miles to the trailhead located at Schultz Tank. FR 420 closed in winter due to snowpack.
GPS (Map):
35°17'11.4"N 111°37'39.0"W
3) Humphrey's Peak Trail (#151)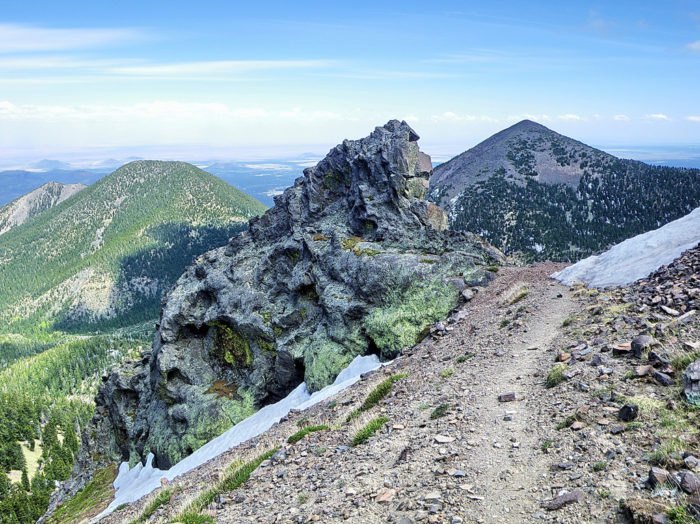 Photo Credit: Only In Your State
The tallest peak of the San Francisco Peaks, Humphrey's Peak was named for Saint Frances by friars who established a mission at the Hopi Indian Village of Oraibi in 1629. Mt. Humphrey's was named after Brig. Gen. Andrew Atkinson Humphrey in 1872, however, he never actually saw the mountain in his lifetime. He was essentially a desk soldier, who ended up leading a brigade of Union soldiers at Gettysburg that stood in the path of a major Confederate attack. This made him a decorated Civil War Hero and the town named the peak after him as a national honor. There is another story that Mt. Humphrey's was named as such because you could see San Francisco from the top, but this is simply an old wives tale. Reaching 12,633 feet at its highest point, on a clear day you can see the Grand Canyon from the top to the north, and Oak Creek Canyon to the south. However, geologists think that it could have stood as high as 16,000 feet before it erupted approximately 1 million to 400,000 years ago. It is also home to the only tundra climate and plants in Arizona. This trail may not be as human-history filled as the other trail, but the mountain itself has a fascinating history and is a mainstay to Flagstaff making it a historical trail in its own right.
This trail starts at Arizona Snowbowl's lower parking lot. Heads up, it starts at 9,200 feet and switchbacks its way up to the summit. It can be a strenuous trail with some parts of steep elevation gains, but the most challenging part of this hike for most hikers is the high altitude, therefore thin air. It is approximately 9 miles long round-trip with about three false summits, which can be disheartening after all the effort you've already made. Take a snack and water break at the saddle if you need to. Getting to the actual summit from the saddle takes just almost as much effort as it did from the trailhead to the saddle. So pace yourself. It is also highly recommended to not hike while there are storm warnings in the area as lightning storms can appear quickly and with little warning. People have died from lightning strikes on this trail, so if a storm appears, be safe and head back down the mountain. If you plan to hike during late fall through early spring, make sure to pack crampons as the trail gets very icy. There is no camping above the tree line, and if you are going to camp, be sure it is a reasonable distance from the trail. There will be a sign that indicates that there is no camping beyond the allowed point. There is also no water on this trail so bring enough for yourself and your pup if you decide to bring your buddy along.
Open Season: Late Spring thru Fall
Usage: Medium-Heavy
Location: From Flagstaff drive north on US 180 for 7 miles to FR 516, the Snowbowl Road. Drive 7.4 miles on this paved road to the lower parking lot of the Snowbowl facility. The trailhead is located at the north end of the parking lot (see photo).
GPS (Map):
35°19'52.4"N 111°42'42.2"W
---
MORE OUTDOOR RECREATION IN FLAGSTAFF
---
---
---
---
---
---
---
---
---
---
---
---
---