Day Trips from Flagstaff
Flagstaff is an ideal launching point for day trips all over northern Arizona. These 13 places to see, from National Parks and monuments to state parks and recreation areas near Flagstaff, make for the best day trips from Flagstaff. More than just Grand Canyon National Park, there are over a dozen historic sites, natural marvels, and cultural hives that make northern Arizona a grand destination. Here, we've grouped nearby must-see places together into the 6 best day trips you can do from Flagstaff.
Grand Canyon National Park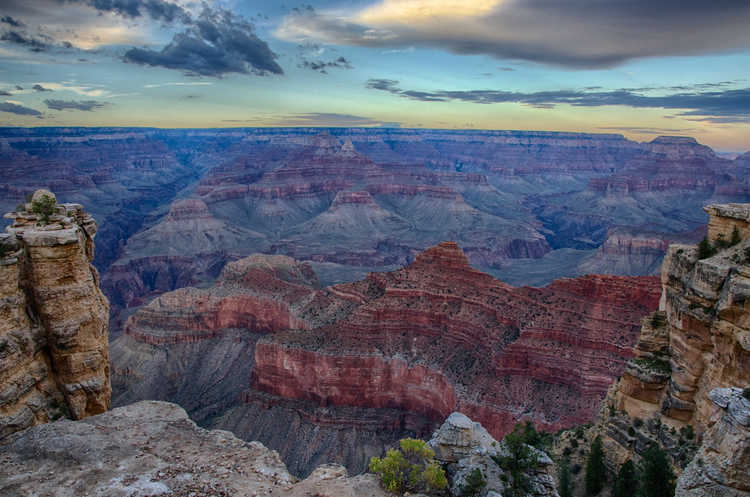 Photo Credit: Nathaniel Toledo
The Grand Canyon is a day trip unto itself, and it's the number one day trip upon which Flagstaff visitors embark. Located just 90 miles (90 minutes) from downtown Flagstaff, you can hardly come to Flagstaff and NOT visit the Grand Canyon. The South Rim of Grand Canyon National Park is truly a wonder to behold. As a day trip, you'll probably experience the Grand Canyon as most visitors do; driving to the South Rim, walking along the Rim Trail, attending free ranger programs, browsing in the visitor centers, riding the free shuttles along the rim and taking photos at the various overlooks.
Plan on an 8- to 10-hour day trip, including 3 hours of round-trip driving, whether you drive yourself or take a guided ground or railway tour; the latter departs from Williams, AZ. If you're driving yourself, you'll find that there are three distinct routes from Flagstaff to the South Rim.
A visit to Walnut Canyon National Monument offers visitors a chance to take a walk back in time to 300 A.D. Take 60-90 minutes to hike along the Rim or Island Trails to view 25 ancient Sinagua cliff dwellings.
Next up, a drive up to Sunset Crater Volcano, whose eruption 900 years ago forever changed the ancient people, flora and fauna. Allow 2 hours to hike both the Lava Flow Trail and the Lenox Crater Trail and stop at the Visitor Center.
Finally, take the Wupatki Loop Road from Sunset Crater up to Wupatki National Monument, where you'll find a Visitor Center and embark on a series of short trails on which you'll discover five prehistoric pueblos. Give yourself at least 2 hours to explore the structures and artifacts that remain from 10,000 years of human history in the area.
Driving Directions
This itinerary will total up to about a 6 hour day trip, including 2 hours, 45 minutes (95.8 miles) of driving. There are no commercial tours to these areas, so plan to drive yourself. Beginning in Flagstaff, head east on I-40 to exit 204 and follow the signs for Walnut Canyon NM. To move on to Sunset Crater, go back toward I-40, cross over the freeway, and take Route 66 toward the Mall. Turn right on Mall Way, then left on Marketplace Drive, then right on Highway 89. Continue for 12 miles, then turn right at the sign for Sunset Crater Volcano - Wupatki National Monuments onto Wupatki Loop road and continue 2 miles (3km) to the visitor center. Upon leaving Sunset Crater, continue north on Wupatki Loop Road. The Wupatki Visitor Center is 19 miles from Sunset Crater. When you're ready to return to Flagstaff, finish the Wupatki Loop Road and head west toward Highway 89 near Cameron, then turn left (south) onto Highway 89 approximately 31 miles back to Flagstaff.
Petrified Forest/Painted Desert Visitor Center, Homolovi Ruins and Meteor Crater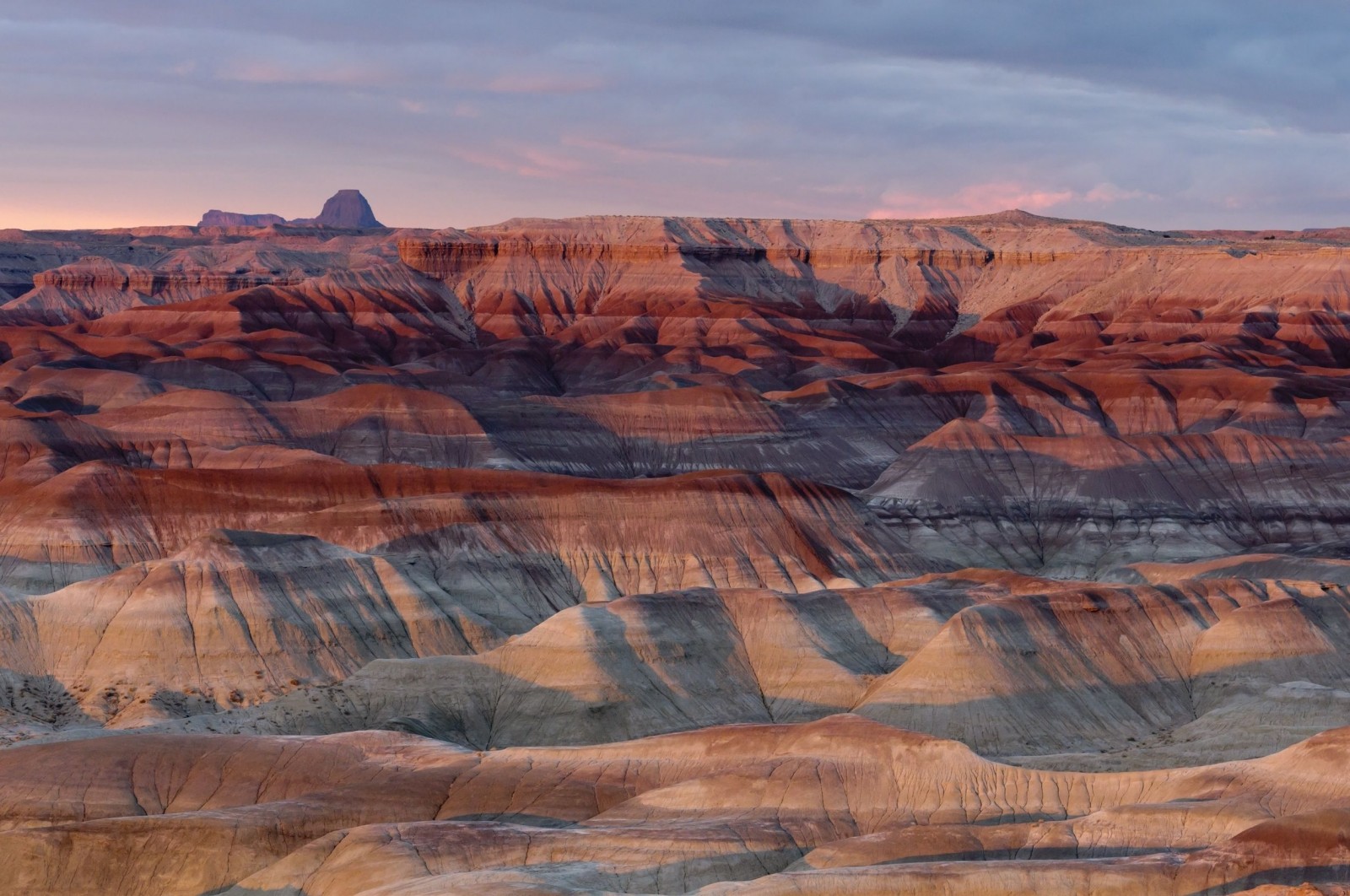 Painted Desert, Photo Credit: getintravel.com
Petrified Forest National Park, located 108 miles east of Flagstaff, is a researcher's dream. Best known for globally significant Late Triassic fossils, the park is located near Holbrook and takes about 1 hour to see on a self-guided drive starting at the South Gate off Highway 180 up to the North Gate on I-40. At the North Gate, you'll find the Park headquarters as well as the Painted Desert Visitor Center, where you can spend another hour to watch the park film, grab lunch or a snack and visit the Painted Desert Inn Museum.
From the North Gate exit, you can easily get on I-40 heading West toward Homolovi Ruins State Park in Winslow. Homolovi serves as a center of research for the late migration period of the Hopi from the 1200s to the late 1300s. Visitors may want to spend about 45 minutes visiting the ancestral Puebloan archeological sites, examining artifacts, walking the quiet paths, attending the visitor center, ranger talks and museum.
Next, head toward Meteor Crater. Spend an hour at this commercial attraction, which is said to be the world's best-preserved meteorite impact site, located near Winslow. Visitors enjoy the theater presentation, gift shop and visitor center in addition to standing on the rim and taking photographs.
Finally, return along I-40 to Flagstaff to complete this day trip.
Driving Directions
This itinerary will total up to about a 6 hour day trip, including 4 hours, 45 minutes (281.7 miles) of driving. There are no commercial tours to these areas, so plan to drive yourself. Beginning in Flagstaff, head east on I-40 toward Holbrook. Take exit 285 for US-180 toward AZ-77 S to Petrified Forest National Park. Continue on US-180 and turn left onto Petrified Forest Rd. Meander along Petrified Forest Road, driving through the park for 28 miles, finally passing over I-40 and continuing the loop toward the North Gate of the park, including the Painted Desert Visitor Center. From here, access the onramp to I-40 West toward Winslow, taking exit 257 and go north on Highway 87. Park entrance will be on your left. To get to Meteor Crater, head towards Flagstaff on I-40 West. Take exit 233 toward Meteor Crater Rd. Turn left onto Meteor Crater Rd. Finally, head back to I-40 and travel west toward Flagstaff.
Montezuma Castle/Montezuma Well National Monument and Tonto Natural Bridge State Park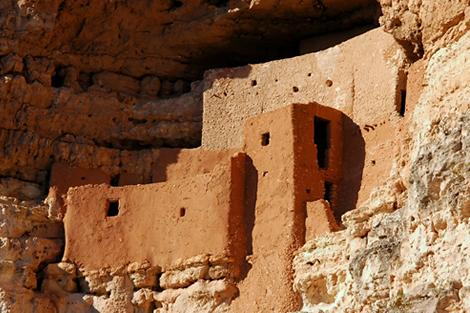 Montezuma's Castle, Photo Credit: arizonalodgingexperts.com
Located about 56 miles south of Flagstaff, Montezuma Castle National Monument and Montezuma Well (a unit of the monument located 11 miles from the park) is an archeological site including a majestic 1,000-year-old Sinagua cliff dwelling ruin, smaller cliff dwellings, an ancient pueblo, a pit house, and an irrigation ditch. From Flagstaff, visit Montezuma Well first; it is closer and there is no fee to enter the area. Then, drive to Montezuma Castle NM and plan to spend a couple of hours attending daily ranger talks and walking the paved 1/3 mile trail around Montezuma Castle as well as exploring the surprisingly tranquil and shaded well area.
Continue your exploration 54 miles toward Rim Country, the valley that sits between Pine and Payson, AZ, to discover Tonto Natural Bridge State Park. This massive wonder, believed to be the largest natural travertine bridge in the world, stands 183 feet high over a 400 foot-long tunnel. Visitors can see the natural bridge from four parking lot viewpoints or hike down below to experience this geologic wonder. One can spend 2 to 3.5 hours at the visitor center as well as hiking the four trails around the area, including routes to an observation deck, waterfall cave, and the creek bottom.
Finally, return along the same path back Flagstaff to complete this day trip.
This day trip will take about 9 hours, including 4.5 hours of round trip driving (226.3 miles.) There are no commercial tours to these areas, so plan to drive yourself. Starting in downtown Flagstaff, take Route 66 east and turn right on Ponderosa Parkway to Butler Ave and get on I-40 West. Then take I-17 south to exit 293 and follow the signs through McGuireville and Rimrock to Montezuma Well. Return on the same route back to I-17 and continue south to exit 298 for Middle Verde Road and follow the signs for Montezuma Castle. Head back to I-17 and again resume heading south. Take exit 287 for AZ-260/AZ-87 east toward Payson. Turn right onto Nf-583/Nf-583A to Tonto Natural Bridge SP. Follow the same route back to I-17 and head north to return to Flagstaff.
Navajo National Monument and Monument Valley Navajo Tribal Park
Navajo National Monument,
Photo Credit:southwestguidebooks.com
In the northeastern corner of Arizona, where the investment into a long day trip will reward visitors with unforgettable memories, visitors can check out two sites significant to the Navajo people. At Navajo National Monument, view villages that prehistoric Puebloan ancestors built within the natural sandstone alcoves of dramatic red rock canyons between 1250 and 1300 A.D. Original architectural elements such as roof beams, masonry walls, rock art, and hand and footholds will thrill you as you view these cliff dwellings. We recommend allowing 90 minutes to start at the Visitor Center and then hike two of the mesa-top trails; Sandal Trail (1 mile) and the Aspen Trail (0.8 miles), both of which originate behind the visitor center.
From there, travel further into the northeastern reaches of Arizona toward Kayenta and the Four Corners area, briefly traversing back and forth over the line between Utah and Arizona and into Monument Valley Navajo Tribal Park. Here you'll find some of Arizona's most photographed and iconic rock formations: the East and West Mitten Buttes. From a self-guided tour on the park's 17-mile unpaved but well-graded loop drive, most of the otherworldly rock formations and outcroppings are visible, which is great news since deviating from the loop is not permitted without a native guide present. A drive through the park should take you about 60-90 minutes as you drive and stop for photographs. Begin in Kayenta, AZ — the town closest to this Navajo Tribal Park – and take US-163 north across the state line into Utah where you'll find the turnoff to Monument Valley.
This is a long day trip from Flagstaff. Expect to take about 11 hours, including 7 hours 36 minutes of driving round trip (378.4 miles.) There are commercial day tours to these areas departing from Flagstaff and Sedona, starting from around $150 per person, and there are multi-day tours that include Monument Valley. For a day trip, drive yourself to Monument Valley and once you arrive, you can take guided horseback, hiking and jeep tours of the area.
From downtown Flagstaff, head north on Highway 89 and turn right on US-160/Navajo Trail. Continue east (northeast) and turn left on AZ-564/Indian Route 41. Navajo National Monument is located at the end of Highway 564. To continue on to Monument Valley, go back out to US-160 toward Kayenta. At Kayenta, turn left onto US-163 and head north. After crossing into Utah, turn right on Monument Valley Road to the Welcome Center. Retrace the route back to US-163 to US-160 to Highway 89 to return to Flagstaff.
Sedona via Oak Creek Canyon and Jerome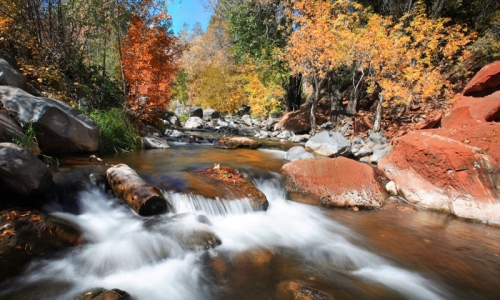 Oak Creek Canyon, Photo Credit:pazazz.social
One can safely speculate that the day trip from Flagstaff to Sedona is second in popularity only to the Grand Canyon. The route down Highway 89A through Oak Creek Canyon begins just 2 miles south of the junction of I-17 and I-40 in Flagstaff and is a breathtaking 25-mile scenic drive that includes a dramatic overlook, several tight switchbacks and a meandering shaded highway along the roaring Oak Creek. Tomes have been written about Sedona and its up-thrusting red rock formations and mystical vibe you'll find upon arrival — in fact, we've written an entire website about it — so visitors should plan to spend about 3 - 4 hours exploring all that Sedona has to offer, but stick to Uptown and West Sedona, forgoing the south-lying Village of Oak Creek for this day trip. We recommend ending the Sedona portion of your day trip at Red Rock State Park, where you'll get a great view of Cathedral Rock — the most photographed place in Sedona. From this western end of Sedona, it's an easy drive to one of Arizona's other gems, the former ghost town turned thriving artist and biker community of Jerome.
Founded in the latter half of the 1800s, Jerome hit its peak as a booming copper mining town at the turn of the century. This prosperous town, built into the steep sides of Cleopatra Hill, high above the Verde Valley, was once home to a brave and raucous mix of miners, smelter workers, freighters, gamblers, bootleggers, saloon keepers, storekeepers, prostitutes and preachers, wives and children until the tumultuous mining industry eventually experienced more downs than ups, forcing "King Copper" out, leaving behind a deserted ghost town. In the 1960s and 70s, Jerome experienced a rebirth as the counter-culture brought artists, writers, musicians, and cultural rebels back to its historic skeleton, and it has continued to attract visitors, bikers, artisans, winemakers, and residents to experience Jerome with one foot in the past and one in the present. Plan to spend about 2 hours roaming the steep and wonky streets of Jerome, ducking in and out of shops, bars, restaurants, and historic sites.
There are many guided tours of Sedona but fewer of Jerome. Try a classic Jeep tour of Sedona, or book a wine tasting tour that will include some of the Sedona area's wineries as well as wine tasting in Jerome. You'll likely need to get yourself from Flagstaff to Sedona by driving your own car.
Because you'll want to spend significant time in each place, this day trip should take about 9 hours, including 3 hours (117 miles) of driving. Start out by taking I-17 south from Flagstaff. Just 2 miles south of the junction of I-40 and I-17, exit at Highway 89A (exit 337). This takes you on a gorgeous 25 mile drive through Oak Creek Canyon. To continue on from Sedona to Jerome, take Highway 89A west toward Cottonwood. Continue on 89A to Jerome. Reverse the route back to Flagstaff.
---
RECOMMENDED GUIDED DAY TRIPS FROM FLAGSTAFF
---
---
---
---
---
---
---
---
---
---
---
---
---
---
---
---
---
---
---
---
---
---
---
---
---