Lava Tubes | Lava River Caves
Status: Open
Who would think that surrounding the beautiful Ponderosa Pine forest here is Northern Arizona we have our very own collection of volcanic wonders? One of these wonders includes the lava tubes Flagstaff has to offer that were formed through a volcanic vent located in Hart Prarie. As the lava flowed from the vent, the outside hardened into a tube-like formation. This newly created tunnel filled with molten lava creating a fiery faucet. Once the flow was done the cave cooled and remains a mile-long tunnel for all of those brave enough to explore it. This 700,000-year-old formation remains a cool 35°-45° even in the summer.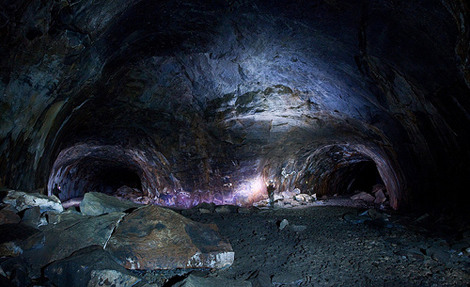 Photo Credit:www.atlasobscura.com/
VISITOR INFORMATION
WHAT TO BRING
3 sources of light. Yes, you really do want at least 2-3 light sources including a flashlight, headlamp, lantern, etc. This is because the rock floors are a painful combination of slippery and dark. If you fall or drop a light source catching yourself you are stuck in the pitch black of the lava tubes. This is no ordinary dark where you can slightly make out the rocks or have your eyes get used to the lack of light. It is the dark where you cannot see your hand if it is touching your nose!
Bring steady shoes. This includes hiking boots, running shoes, etc. Anything closed toed is the way to go. This again is due to the lack of light and uneven surface at the bottom of the cave.
Bring warm clothing. The cave is not only a constant average of 42°, but it leaks snowmelt and weather from rainstorms. This means the cold can be slightly damp depending on the time of year.
Optional-You could bring a helmet. This cave changes height frequently and in the dark, it is difficult to make out anything around your flashlight. Even the shortest of people have the potential to bang their head on the wall if they are focused on the ground.
GETTING HERE
The best season to visit the lava tubes Flagstaff has to offer is during the summer. The cave is open all year round but the service roads to get to them (Forest Roads 245 and/or 171) are closed during the winter. Feel free to ski or snowshoe to the cave if you desire a winter visit. There is also camping around the area but please remember to have your campsite at least a mile away from the cave entrance. The camping etiquette around the area includes picking up all trash, not feeding the wildlife (there are cows that wander the area but are scared of humans), and most importantly no defacing the cave walls. There have been many cases of graffiti in the cave and although they have been removed since it is obviously respectful to leave the area how it was when you first set foot on it. Camp Colton does educational school programs in the cave and the experience is a rite of passage and an awesome adventure to all Flagstaff sixth graders.
Location: 14 miles north of Flagstaff on paved highways and graveled Forest Roads and a travel time of 45 minutes. GPS Coordinates: 35°20'32.2"N 111°50'08.2"W
Directions: Drive 9 miles north of Flagstaff on US 180 and turn west (left) on FR 245 (at milepost 230). Continue 3 miles to FR171 and turn south 1 mile to where FR 171B turns left a short distance to Lava River Cave. For more information please contact Flagstaff Ranger District at 928-526-0866.
---
MORE THINGS TO DO NEAR FLAGSTAFF
---
---
---
---
---
---
---
---
---
---
---
---
---
---
---
---
---
---
---