Best Flagstaff Outdoor Dining
Looking for the best patios and outdoor dining in Flagstaff? Whether the weather is gorgeous outside, you're still not quite comfortable eating indoors yet or you've got your furry best friend with you, these are the best places to eat outdoors.
---
The Annex/Tourist Home
This restaurant shares a large outside dining area that is a historic Basque handball court. These preserved, historic walls create a unique environment unlike any other in Flagstaff. Breakfast and lunch is served at Tourist Home, while dinner and craft cocktails are served after 4pm at The Annex.
Tourist Home: Family-friendly | Pet-Friendly
The Annex: Pet-friendly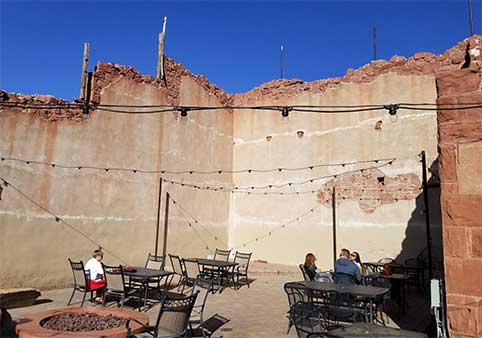 ---
The Mayor
Flagstaff's best (and only) rooftop bar. All the booths have their own tabletop fire pit and a great view of downtown Flagstaff, Mt. Elden, Aggaziz and the southern part of the San Francisco Peaks. Their menu is family-friendly, but this is somewhat of a college bar - especially as it gets dark. Summer nights bring rooftop movie showings and other nightlife shenanigans.
Family-friendly | Pet-Friendly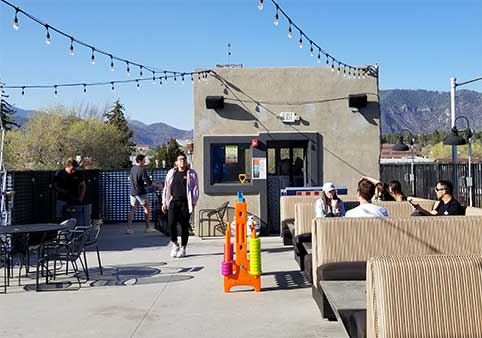 ---
Flagstaff Brewery
Flagstaff's OG craft brewery is still the place to hang out during the summer for locals and visitors alike. There's live music out on the patio every Sunday afternoon and it's a great place to take in Flagstaff while getting a burger and a beer or fish and chips. If you are looking for a more laidback, old-school, traditional local pub vibe, Flag Brew is for you. And don't forget to take a look at their extensive whiskey and scotch menu. It's quite impressive to say the least.
Somewhat Family-Friendly* | Somewhat Pet-friendly*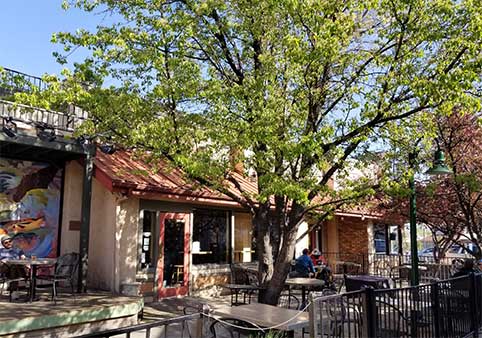 *Dogs can hang out outside of the restaurant's patio gate next to your table if you sit at a table next to the gate. Also, there is a section of the patio where smoking is permitted. This might not be ideal for families.
---
Fat Olives
This charming Italian restaurant with authentic Neapolitan pizza oven fire pizza, homemade mozzarella cheese and Calabrian chili oil is one of the food gems of Flagstaff. Owner Chef John Conely is featured repeatedly on the Food Network and is a leader in Flagstaff's restaurant community. There's nothing on the menu you won't love. Also, their heated outdoor courtyard or private dining room with a fireplace allows you to comfortably enjoy one of Flagstaff's best dining experiences.
Family-friendly
See the Menu »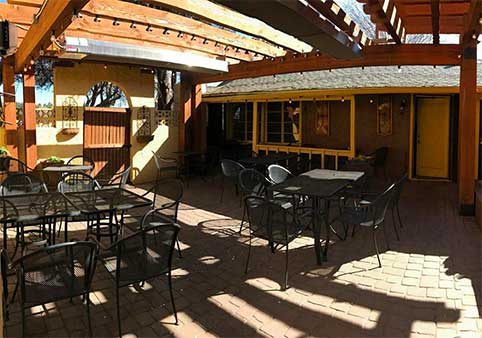 ---
Dark Sky Brewing Co.
DSB is now bigger and radder than before! Enjoy Pizzicletta oven-fired pizza and the always fun, ever-changing tap menu, but now head over to their new addition, Flagstaff's biggest outdoor patio! Not only that, they have an additional kitchen that features high-end, classic pub food that really isn't fair to call "pub food". One more thing, they also serve wine, liquor, and craft cocktails on the patio as well now in addition to their creative, small-batch craft brews.
Pet-Friendly
See What's On Tap »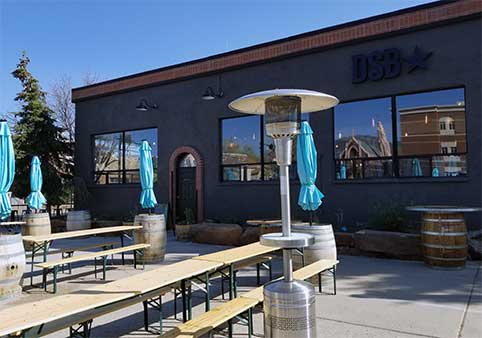 ---
Historic Brewing Co.
History Brewing Co. is a popular place for visitors. Their creative marketing and wide selection of merchandise have done well in getting their brand out there. You'll find a quaint patio that serves food and some good snacks to share while choosing from their selection of decent beers. But their patio is very dog friendly and its back corner location is kind of nice and private.
Pet-Friendly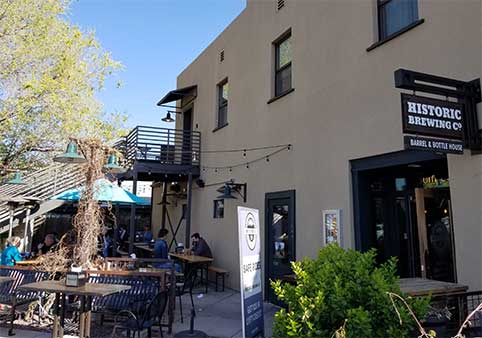 ---
Toasted Owl (Downtown)
This may be the place to go for brunch - any day of the week. Their large, dog-friendly patio and an extensive menu of breakfast options ranging from vegan, gluten-free, and dairy-free all the way to traditional, comfort breakfasts. Everyone can eat here and fully enjoy themselves. They also have fantastic mimosa specials.
Family-friendly | Pet-Friendly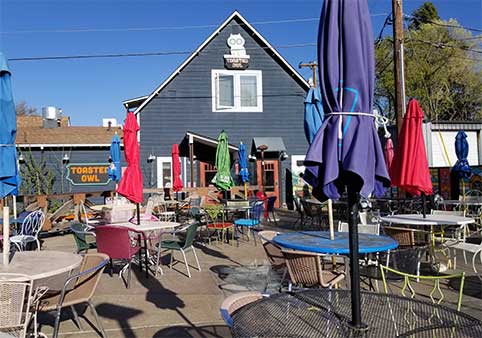 ---
Diablo Burger
Diablo Burger (named after the local Diablo Ranch where the beef comes from) is arguably the best burger in Flagstaff. There are other fantastic burger joints in town, it really just depends if you're a purist or really like to push the possibilities of a good burger. Diablo Burger serves their local, grass-fed, free-range raised beef on a ciabatta bun, and then let your flavor profile go exploring! Their outdoor patio is a shared bench format, which is also great for larger groups. Their patio has also always been one of the most welcoming to dogs in Flagstaff. For the vegetarians, they do serve a veggie burger and a kick-ass grilled cheese.
Family-friendly | Pet-Friendly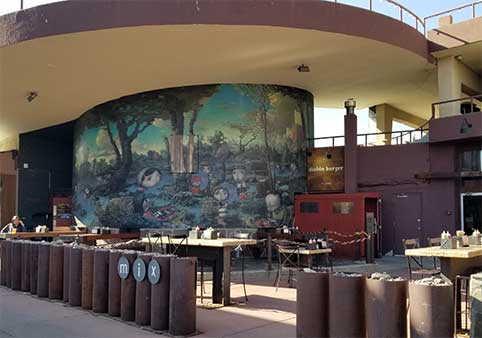 ---
Lumberyard Brewing
This restaurant is very inviting to visitors. Lumberyard offers one of the most extensive menus of any restaurant in Flagstaff, is a craft brewery, has room for large groups, and has a large outdoor patio. It's easy to see why visitors love checking Lumberyard out. It also has its own parking lot, which makes it extra convenient to dine at. This brewery serves breakfast, lunch, dinner, and everything in between. Unfortunately, the patio is strictly forbidden to our furry friends.
Family-friendly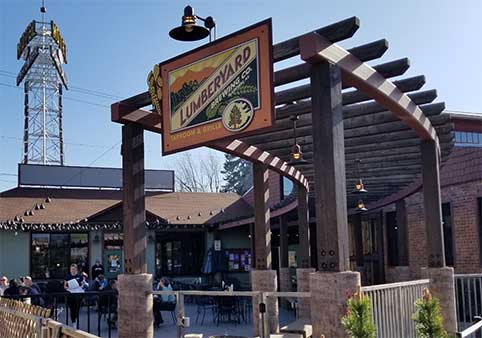 ---
Beaver Street Brewery
This OG Flagstaff Brewery is sometimes overlooked with all the new breweries and restaurants in town, but it's still a good one. Beaver Street Brewery has a very big menu making it easy for everyone in your party to choose something to enjoy. They've turned their parking lot into outside dining, so there is plenty of open space to relax and enjoy some food and drinks.
Family-friendly | Pet-Friendly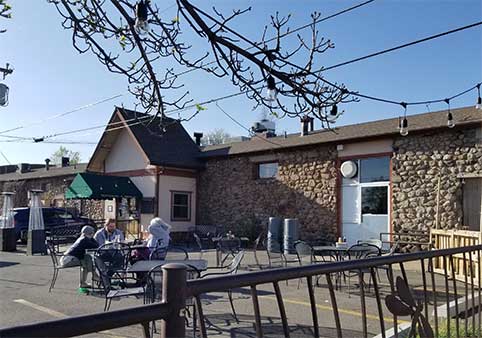 ---
Bandaleros
Once a late-night, back-alley food truck spot behind Bandaleros Craft Tacos, Bandaleros now offers BBQ (vegan and gluten-free options as well) in this fun, shady space in the heart of downtown Flagstaff. Enjoy beers, margaritas, and an assortment of savory food that everyone can enjoy.
Family-friendly | Pet-Friendly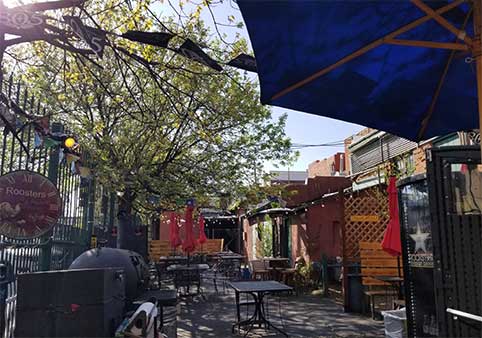 ---
NiMarcos Pizza
There are three locations in Flagstaff. The downtown and west side location offer outdoor dining. Nimarcos has been in Flagstaff for 40 years and is known for making their fresh sauce and dough daily. They are great if you like a thicker crust and traditional-style pizza.
Family-friendly | Pet-Friendly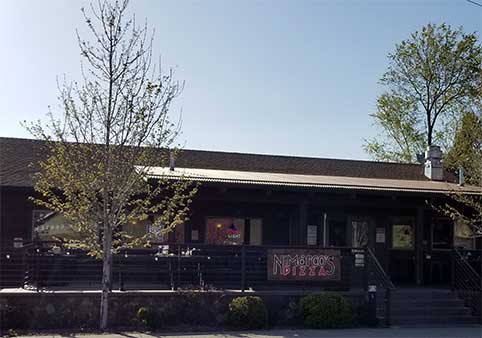 ---
Fratelli's Pizza
Fratelli's Pizza has multiple locations and both the downtown and Fort Valley locations have great patios to dine on. Fratelli's crust is less doughy than Nimarcos' and offers some traditional and unique pizzas that have made it possibly Flagstaff's favorite place to get a pie.
Family-friendly | Pet-Friendly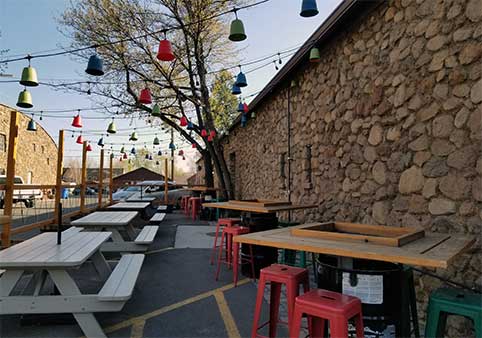 ---
MotherRoad Brewing Co.
As Flagstaff's most commercial craft brewery, MotherRoad has reached beyond Flagstaff and is now popular all over Arizona. They recently extended their patio and now have a resident food truck at the brewery and guests are also served tableside by Pizzicleta. There is a private building to host events and the tap-room itself has also been renovated to create more indoor space. MotherRoad is popular among all ages and is well-loved locally.
Family-friendly | Pet-Friendly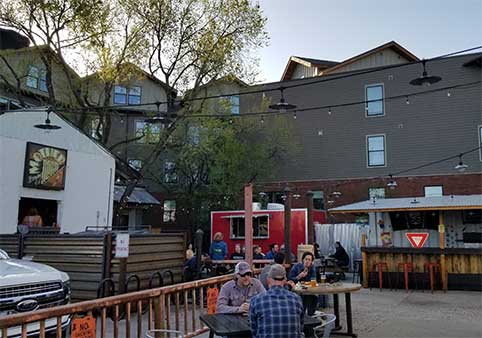 ---
Altitudes Bar & Grill
Altitudes has been around for ages serving great pub food and drinks in the heart of downtown Flagstaff. They are located pretty close to the railroad tracks so be ready for a pause in communication and take advantage of the hilarious Train Shots. 1 train = $2 shots | 2 trains = $1 shots | 1 train + Wrong Way Car = $1 shots | 1 train + snowing = $1 shots
Family-friendly | Pet-Friendly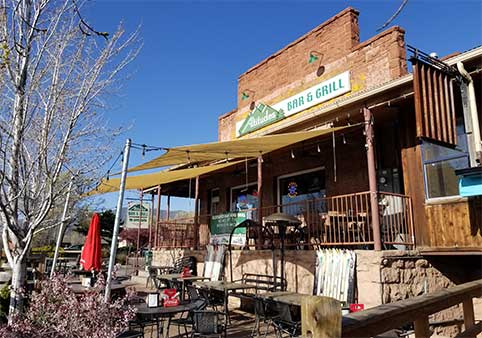 ---
Ewa Thai
Flagstaff almost has as many Thai restaurants as it does craft breweries - and for the size of our population, that's saying something! Ewa Thai has a great heated patio, which makes it stand out among the other Thai restaurants in town.
Family-friendly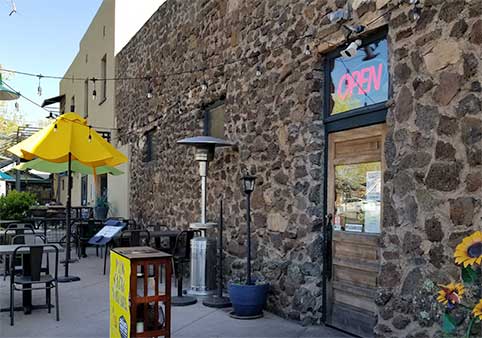 ---
Satchmo's Cajun BBQ
Dining on the east side of Flagstaff is a great way to get away from the crowds, enjoy easy parking, and actually get some of the best food in town. Satchmo's Cajun BBQ is not to be missed! Their poboys, pulled pork and ribs will satisfy that craving for smoked, savory BBQ in ways you didn't think possible in a mountain town.
Family-friendly | Pet-friendly