Sandy's Canyon
Located off of Lake Mary Road, the trail leads you along the rim of Sandy's Canyon with great views of a large lava field with Mount Elden in the distance. The first 1.5 miles is mostly shaded and takes hikers down into Sandy's Canyon where the trail joins the Arizona Trail, which is a good turn-around point when hiking with kids.
Buffalo Park Trails
Buffalo Park is part of the the Flagstaff Urban Trails System (FUTS, pronounced "foots") as a non-motorized hike-bike-run-accessible recreation area. Its two short loop trails are flat, wide and ringed with Ponderosa pines and mountain views. Suitable for strollers. Take Fort Valley Road (US 180) to Forest Ave; turn right and go to the turnoff for the park at Gemini Drive; turn left and follow the signs to the park entrance.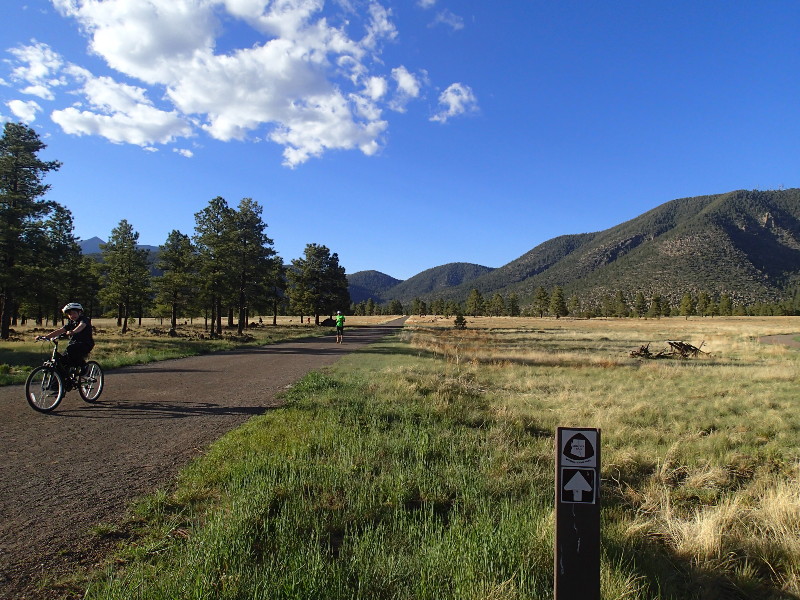 Photo Credit: astral.org
Griffith's Spring
Griffith's Spring is a shaded and peaceful one-mile loop trail that's wide and flat, and terminates at its namesake spring, with small exploratory trails leading to greenery, wildflowers and (watch out) poison ivy.
Wet Beaver Creek
This clear, cool brook remains pleasantly secluded in the deep red rock canyon it has cut into the southern rim of the Colorado Plateau. The stream's pools and riffles are a popular place to fish, hike, swim, and birdwatch. The waters of the stream are stocked with trout. 45 miles south of Flagstaff on graveled Forest Roads. Drive south from Flagstaff on I-17 and exit onto AZ Highway 179; drive 2 miles east on Forest Road 618 to the campground.
Slide Rock State Park
Likely the most popular spot in Oak Creek Canyon (between Flagstaff and Sedona), Slide Rock State Park is an extremely busy picnicking spot and swimming hole. The littlest children will enjoy playing "Pooh sticks" under footbridges, doing some shallow wading or dipping their feet into the cold mountain run-off, while older children can try out the natural water slides and swimming. On US 89A through Oak Creek Canyon, drive 21 miles south from Flagstaff, or 6 miles north from Sedona. You can't miss it. $20.00 Daily Entrance From the Friday before Memorial Day through the end of Labor Day: Per Vehicle (1-4 Adults) Off-Season: $10.00 per day (1-4 Adults) (This is a STATE PARK and does not honor the Federal Recreation Pass or the Red Rock Pass.)
Grasshopper Point
A large cliff-side swimming hole, this day-use site is popular with swimmers and picnickers alike. The swimming hole is shaded and cool, a good respite from the summer heat. You can also access the Allens Bend trailhead from the Grasshopper Point parking lot. Drive south from Flagstaff about 26 miles or north from Sedona for about 2 miles on US 89A. Grasshopper Point will be approximately 2 miles south of Encinoso Picnic Area on the east side of US 89A. $8 per vehicle per day (up to 5 people) in addition to the required Red Rock Pass.
Allens Bend Trail
This short, half-mile walk is one of the best easy day hikes in the Sedona area because it's one of the only paths along the banks of Oak Creek.