Grand Canyon Railway
The Grand Canyon Railway is a true blast from the past. It takes passengers not just from Williams to the Grand Canyon Village, but from cars and modern times to spectacular views and remnants of Southwest's intricate history. Stretching 65 miles long and created in 1901, the Grand Canyon Railway has been used by many influential people including Theodore Roosevelt, John Muir, William Howard Taft, Franklin Delano Roosevelt, Dwight D. Eisenhower, Clark Gable, Jimmy Durante, Doris Day, Warren Buffet, and Bill Gates.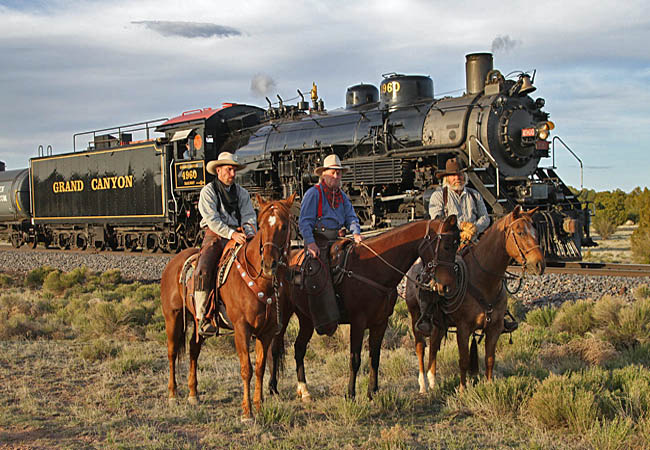 Photo Credit: scenicusa.net
Teddy Roosevelt even stated that the Grand Canyon Railway was a sight that, "...every American should see." The ride is 2 hours and 15 minutes each way and the first train leaves Williams at 9:30 am to take its passengers to the South Rim of the Grand Canyon. Throughout your day trip to the Canyon, you will be experiencing different climates and we recommend bringing layers. If you happen to be around for the holidays don't forget to check out some of the railway's themed events including the Polar Express and the Pumpkin Patch ride. When on the train and exploring the South Rim of the Grand Canyon be sure to look out for wildlife. These include animals such as elk, mule deer, squirrels, bald eagles, California condors and many more. This trip is not only a fun ride, but it leads you to one of the most incredible sights to be seen: the Grand Canyon.
VISITOR INFORMATION: GRAND CANYON RAILWAYS
Train Rates per Class:
The Pullman Car - Adults: $65.00 | Children $29.00
Coach Class - Adults: $79.00 | Children: $47.00
First Class - Adults: $152.00 | Children: $118.00
First Class - Adults: $152.00 | Children: $118.00
Luxury Dome Class - Adults: $219.00
Luxury Parlor Class - Adults: $219.00
Weather:
Summer at 7,000 feet (2,134 meters) means summer temperatures on the South Rim are between 50° to 80°F (10° to 20°C). The North Rim is 8,000 feet (2,438 meters) above sea level, and thus has cooler temperatures and range from 40° to 70°F (5° to 21°C). Thunderstorms frequently occur during July, August, and early September, and inner canyon temperatures are extreme. Daytime highs at the river (5,000 feet or 1,500 meters below the rim) often exceed 105°F (40°C).
Winter conditions on the South Rim tend to be rather extreme. Be prepared for snow, icy roads, icy trails, and road closures. Roads on the South Rim are plowed when needed and canyon views can be difficult when there are storms or high levels of fog. The North Rim can get heavy snowfall during the winter months. The road into the North Rim (Highway 67) is closed from the first heavy snow in November or early December to mid-May. (Entrance fees are not refundable due to weather conditions)
Spring and fall weather in the Grand Canyon is unpredictable. Please prepare yourself for sudden changes in the weather at those times of the year. May and October can be some of the driest months, although snowstorms may occur, while late April and May can be windy. Spring and fall sport mild temperatures with warm days and cooler nights, and can be the best times to be hiking in the canyon.
Train Times
Leaves Williams at 9:30 am and arrives at Grand Canyon Village at 11:45 am.
Leaves Grand Canyon Village at 3:30pm and arrives at Williams at 5:45pm.
Pet Resort
Looking for a place to keep your animals when going on your Grand Canyon Railway adventure? There is a state-of-the-art Pet Resort provided by the Grand Canyon Railway where you can know for sure that your pets are taken care of. It has 28 spacious rooms for dogs and 16 cat condos. It is filled with caring staff and is a wonderful and safe environment where your pets will be in good hands. For more information, check out their Grand Canyon Railway's Pet Resort.
Discounts
Check out Grand Canyon Railway's package deals that include hotel stays and food. Other discounts include:

AARP: save 15% off any class of train travel, stays at Grand Canyon Railway Hotel and RV Park, and you can enjoy 15% off the 2-night "Canyon Explorer" package.
AAA: Save 15% off train, hotel, and RV park reservations year-round. Plus, save big on the AAA "Rails to the Rim" package
Military: Save 15% off train, hotel, and RV park reservations year-round*. Enter "STRONG" in the promo code field to get your discount when making online reservations.
Good Sam: Save 10% on RV park stays year-round.
---
RECOMMENDED GRAND CANYON TOURS
---
---
---
---
---
---
---
---
---
---
---
---
---
---
---
---
---
---
---
---
---
---
---
---