Hotel vs. Airbnb When Visiting Flagstaff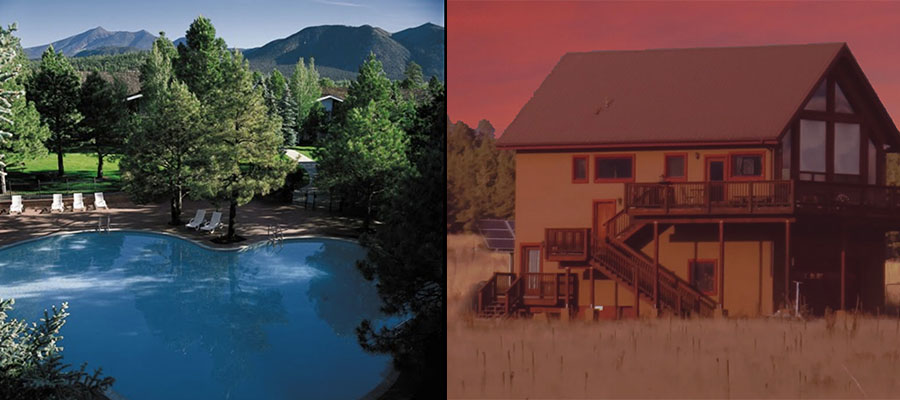 Featured Properties:
Left: Little America Hotel | Right: Mountain Star Vacation Home
A nice pillow for your head to rest on, a mountain view, and clean linens – what else do you look for when choosing where to book your overnight stay away from home?
There's a wide variety of accommodations when traveling in today's world. The two most popular choices are hotels and Airbnb homes. So, when you are traveling to Flagstaff, Arizona what's the right option for you? We decided to sort through the pros and cons to see which is a better fit between today's two largest competitors. In the end, we realized, it's up to you – your preferences and what you want out of your trip. Just remember that your overnight experience can make or break your trip. Luckily, Flagstaff has such a wide selection of places to rest your head that you can't go wrong – and you will most likely leave Flagstaff happy and rested.
Whether you want a luxury hotel with a mountain view, a cabin in the woods or a tiny-home downtown, Flagstaff accommodations will not only provide a warm place to rest your feet but great people to interact with. You will find that most of the Airbnb's in Flagstaff are run by their owners, not a separate vacation company, and they take pride in their homes and town. And if you stay at a hotel, you'll likely be speaking to one of Northern Arizona University's hotel management students and be treated with respect. So, is it the people or the bed that make that overnight experience memorable?
Hotels provide comfort and ease every time. They make you feel like you are on that relaxing vacation you wanted. Although in Flagstaff, compared to Airbnb, hotels are more expensive. We averaged out over a dozen hotels and Airbnb prices and it showed that hotels can be twice as expensive as an Airbnb. Even though hotels average $102/night and you can easily find an Airbnb for $52/night, we admit that money isn't everything. Maybe the extra splurge is worth it; or maybe the local vibes and inspiring experience you receive with an Airbnb home is worth any hesitation you have at sleeping in someone else's space.
Here's a list of questions that will help you choose the best place to stay:
What is the size of your group?
This will impact how many hotel rooms you need versus one big house.
How many days/nights are you staying in Flagstaff?
If you're staying for a long period of time Airbnb may be more affordable and home-like.
What are you traveling to Flagstaff for?
Look at a map and choose the best area for your desired activities and then see what accommodations are in that location. This will help you get started on your search.
Are you okay with a shared bathroom?
If not, look into hotels, or entire home rentals on Airbnb. If you are okay with a shared bathroom then you can save a lot of money with Airbnb spaces.
What type of vibe do you want?
Vacation Vibes: stay at a hotel // Local Vibes: Stay at an Airbnb
Do you want a kitchen to cook in?
Airbnb or Hotel. You could find a more affordable Airbnb with a kitchen but if you are traveling with a small group, booking entire homes on Airbnb can get expensive, so compare those to hotel prices.
Do you have a pet?
Airbnb with a yard. Better yet, grab an Airbnb with trails right outside the door.
Do you want to swim?
Hotel
Do you want to be able to walk downtown?
Either one, but there are more Airbnb options in the heart of downtown. But if you want a hotel with character, then downtown is where you should book.
Do you want a yard/patio to enjoy privately?
Airbnb
Do you want to connect with the local community?
Airbnb
Do you want to join tour groups for organized trips?
Hotels
How much do you want to spend per night?
Less than $100: Airbnb (or check for hotel discounts)
Over $100: Hotels (or rent a large home on Airbnb)
Amenities – Do you want easy to find and easy to park?
Hotels. There are many hotels right when you enter Flagstaff from the south. So, if you want to get off the interstate, find your hotel in less than 5 minutes and easily park, then check out the hotels near and on Beulah Blvd.
Accessibility - Do you need a wheelchair or stroller accessibility?
Though there Airbnbs that are suitable for wheelchair access and other accessibility needs, Flagstaff's terrain can be tricky with unlevel entries, roads, and winter weather obstacles.
Hotels
What it comes down to: If you want comfort, ease and familiarity stay at a hotel. If you want a unique, extra-ordinary visit stay at an Airbnb. Either way, whichever route you choose, you'll have fun and a great experience wherever you rest your head.
---
---
---
---
---
---
---
---
---
---
---
---
---
---
---
---
---
---
---
---
---
---
---
---
---
---
---
---
---
---
---