Christmas Activities & Flagstaff Holiday Event Calendar
Christmas in Flagstaff is a magical time of year! Hidden on a mountain top at 7,000 feet and averaging over a 100" of snow every year – it's life in a snow globe. Out of state visitors have a hard time believing that Arizona has its own Winter Wonderland. The average temps are in the 40Fs during the day with consistent Arizona sun, and you'll usually get a white Christmas under your feet with the warm sun on your face. Like other mountain towns, Christmas in Flagstaff truly feels like a summit oasis – even if you don't make it to Snowbowl (the local ski resort). With warm coffee and warmer locals, endless sledding hills and giant Ponderosa pines, Christmas in Flagstaff is sure to create lasting memories. If you're an outdoor enthusiast, Flagstaff can be Christmas perfection. Whether you're spending Christmas in Flagstaff with friends or family, there's something festive for you to enjoy that's sure to get you in the holiday spirit.
Here are some of Flagstaff's favorite holiday activities
1. Lights at the Station
Bundle up and grab the mittens to capture the magic of the holiday lights at the station located in the heart of historic downtown. This light display is free to all during the holiday season. Be sure to take a short stroll east of the Visitor Center to the corner of Route 66 and San Francisco to the 1911 Baldwin Steam locomotive, Old Two Spot, offering a dazzling light display.
---
2. Sledding
Find the perfect and safest sledding hills in Flagstaff! Wondering where to take the kids sledding or tubing in Flagstaff (when there actually is snow)? The whole family can enjoy playing in the snow, making snow ducks, snowmen, have snowball fights in several of Flagstaff's fun, snowy areas. You'll find that some of the designated snow play areas to be safer with nearby restrooms, hot beverages and other recharging amenities. But, you'll always find people pulling over along the way up to the Arizona Snowbowl resort with sleds. For a list of places to go sledding take a look at our favorites here: Flagstaff Sledding »
---
3. North Pole Experience
Be transported through a portal to Santa's Workshop at the North Pole, where all the magic happens! Tour the entire workshop, build toys with the elves, visit the toy factory and enjoy special one-on-one time with Santa! This is an 8500-square-foot workshop, which includes Santa's Toy Hall of Fame, Santa's Toy Building Workshop, a large toy factory where all the real magic happens, Santa's Bakery with hot cocoa and cookies, Elf University, Santa's Office, "Area 47" — Santa's secret sleigh hanger, and of course, hot chocolate and cookies.
North Pole Experience »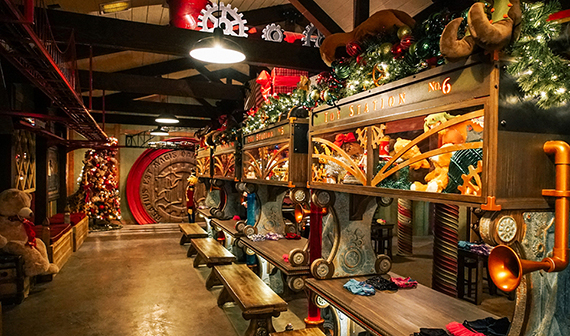 ---
4. Polar Express
Ride the Polar Express in your pajamas, for the experience of a lifetime with your children! Every winter the Grand Canyon Railway's Polar Express comes to life on a journey from the nighttime wilderness of Williams, Arizona, to the enchanted beauty of "the North Pole"—where Santa Claus and his reindeer are waiting with a keepsake present for every good boy and girl. You'll be smiling from ear to ear, as you watch children's faces light up when the train arrives, and enjoy hot chocolate and cookies while listening to this timeless story.
Go to the Polar Express »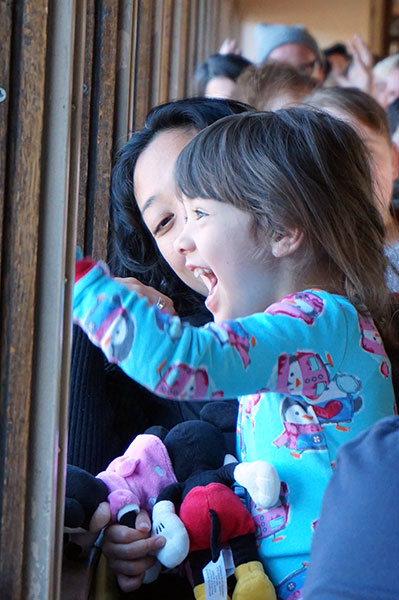 ---
5. Bearizona Wild Wonderland
Enjoy lights and animals at this wild winter wonderland. Every Friday/Saturday/Sunday during the holiday season.
Go to Bearizona »
.
---
6. Arizona Nordic Village
Forget about malls, shopping and holiday stress. Take your family on a snowy adventure that they'll remember for years to come! The Arizona Nordic Village is located in the Coconino National Forest just 15 miles from downtown Flagstaff. Visitors get can away from the holiday hustle and bustle by staying in one of the large or small yurts or a log-sided camper cabin in the foothills of the San Francisco Peaks. During the winter season enjoy the well-groomed cross country ski trails of Arizona Nordic Village. They offer over 40 km of ski trails groomed for both classic and skate style skiing. With over 15 km of well-marked snowshoe trails, they are the perfect location for a winter hike.
Go to Arizona Nordic Village »
.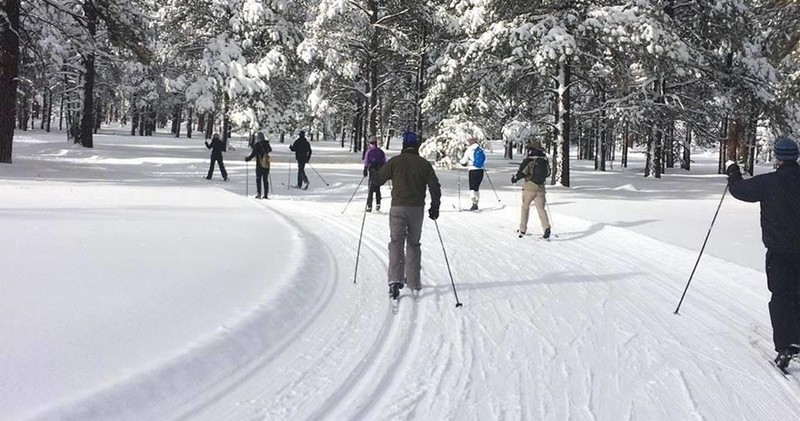 ---
Info for Everyone to Read Before Your Flagstaff Christmas!
Be sure to check the local weather and road conditions before you travel up to Flagstaff.
Want to escape the crowds? Flagstaff has high-altitude trails no matter where you go. Check out Walnut Canyon, Forest Service Roads and places like Kendrick park to enjoy the peace and quiet.
Check out the local coffee and brewery scenes while you're here to keep you warm
Tips for a Smooth Trip
Be sure to drink a lot of water to acclimatize to the elevation
Minimize alcohol to avoid dehydration
Winter temps are warm during the day and very cold at night - Pack accordingly.
Book your accommodation in advance
Show love and respect to the locals and the land
---
Flagstaff Holiday Events & Festivities
---
MORE THINGS TO EXPERIENCE THIS CHRISTMAS
---
---
---
---
---
---
---
---
---
---
---
---
---
---
---
---
---
---
---
---
---
---
---
---
---
---
---
---
---
---
---
---
---
---
---
---
---
---
---
---
---
---
---
---
---
---