CLEAN UP YOUR TRASH AND DO NOT LEAVE BROKEN SLEDS AND GARBAGE IN THE FOREST!!
There is nothing like the joy of snow play in a winter wonderland such as Flagstaff! Curious where to take the kids sledding or tubing in Arizona? Or maybe you're just looking for a great place the whole family can enjoy playing in the snow, cross-country skiing, sleigh rides and even making snowmen, you have come to the right place! Although these activities are fun please understand that this town is precious to many and for that reason, Flagstaff has a "leave no trace" policy. This means EVERYTHING that you bring should be brought back with you. Please do the same if your sled meets an unfortunate end against a tree or rock! Another important thing to keep in mind is that although lots of fun, sledding can also become dangerous. Please watch your children especially by roadsides. There have been many close calls in areas near Milton and highway 180 of children racing into the road on a sled. With all that in mind here are some awesome snow areas to check out!
---
¡No hay un lugar tan bonito como Flagstaff con nieve! ¿Tiene curiosidad sobre los lugares que ofrecen viajes en trineo en Arizona? O posiblemente solamente esté buscando un lugar que toda la familia puede esquiar, jugar en la nieve, hacer un muñeco de nieve, o pasear en trineo. Pues, ¡Flagstaff es el lugar perfecto para eso y más! ¿Estas actividades son divertidas verdad? Es por eso que en Flagstaff nos gusta mantener un ambiente sano y limpio, para que todos los que quieran puedan disfrutar de las divertidas actividades y hermosísimos paisajes de esta ciudad en las montañas. Es por eso que tenemos una regla de "no dejes nada". Si su trineo se rompe al estar usándolo, favor de disponer de la basura que cause en el contenedor de basura más cercano. Es importante también mantenerse seguro cuando esté paseando en trineo porque es peligroso, especialmente al lado de las calles Milton y la carretera 180,ya que ha habido incidentes en los cuales se han acercado demasiado a la carretera. ¡Bueno, ya que se tiene eso en mete, aquí hay algunos lugares increíbles con nieve que tiene que visitar!
Edited by Reyna Cardenas
---
Sledding Safely During Covid-19
Even though sledding is done in the open, fresh air, there is a high probability that you and your kids will get into close proximity of each other at some point, especially if you go to one of the designatied snow parks. Please make sure to wear a mask and do your best to keep distance between you and the other sledders. Being patient, taking turns and sharing space respectfully will be the best way to stay safe and healthy this winter season.
Here's where you can go sledding!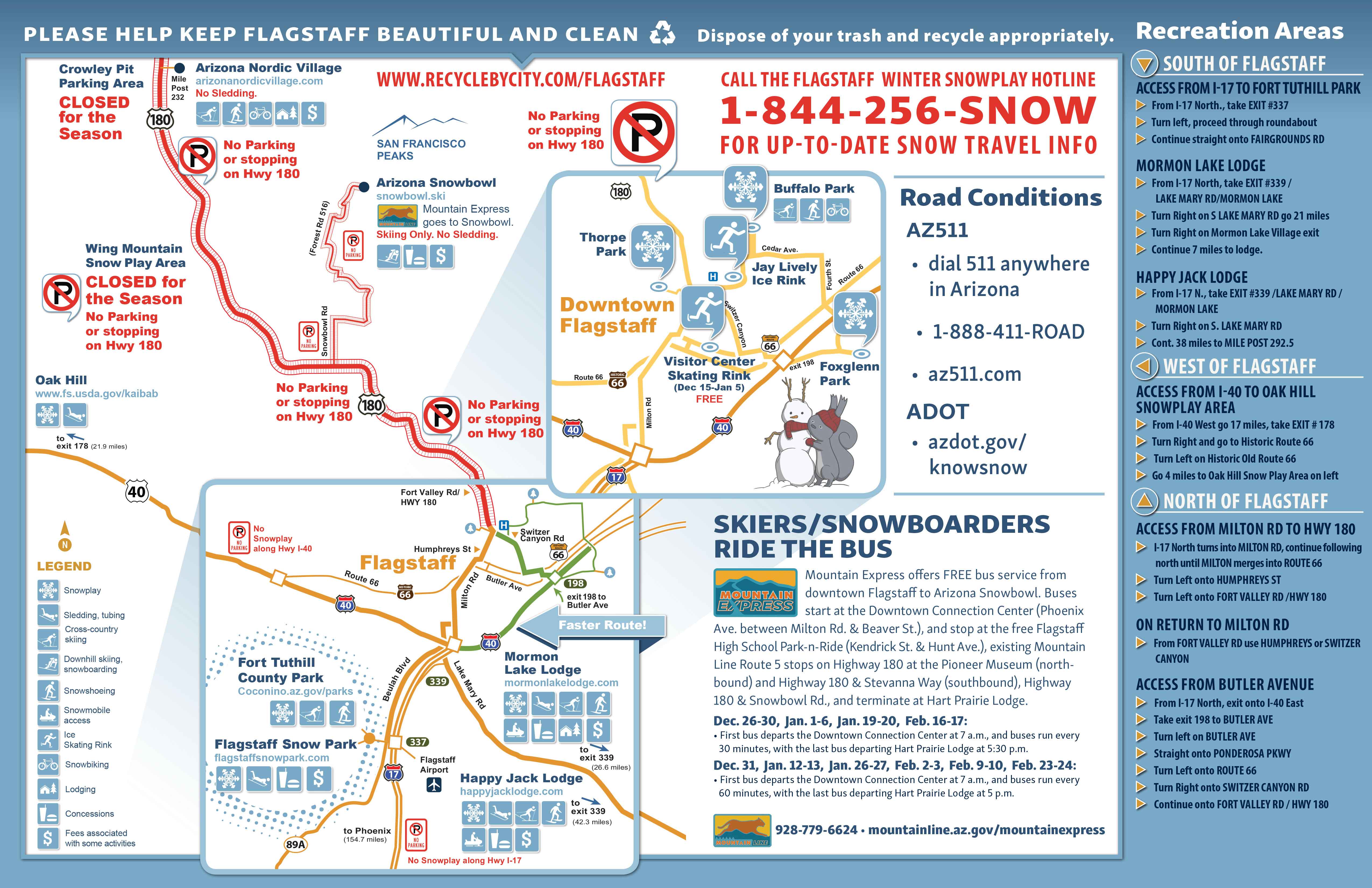 Click to enlarge map from City of Flagstaff
---
More Places for Snowplay
Arizona Nordic Village
The Arizona Nordic Village offers snowshoeing, cross-country skiing, snowman building and pull-behind sledding and night play on Fridays when conditions allow. Downhill sledding is available at Crowley Pit, just 1 mile past the Arizona Nordic Village. The center is open daily has 40 kilometers of trails.
Getting there: The center is about 15 miles northwest of downtown Flagstaff and 160 miles from central Phoenix. Head north on Interstate 17, which leads into Milton Road in Flagstaff. Follow Milton Road downtown to U.S. 180 north. The parking lot is along the highway at mile marker 232.
Hours: 9 a.m. - 4 p.m. daily and 6-9 p.m. Fridays if conditions allow.
Skiing: Reservations for equipment rentals must be made by 3 p.m. three days before your visit. Skis and rental packages range from $10 - $20/day, and trail passes are priced at $10 - $18/day.
Snowshoeing: The center has about 9 miles of marked snowshoe trails, and dogs are allowed if kept under control. Reservations are suggested to ensure equipment availability. Trail passes and snowshoe rentals are $10 - 18 per day each.
Sledding: A sledding area is near U.S. 180 at Crowley Pit, about 1 mile past the Arizona Nordic Village. The pit's parking area is not maintained, but portable toilets and a garbage can are available. Several hills with various grades and lengths are available.
Details: 928-220-0550 or https://www.arizonanordicvillage.com
---
Wing Mountain & Crowley Pit Snow Play Areas
NOT OPEN for snow play.
---
Sunrise Park Resort
Known for its downhill ski runs, Sunrise also offers tubing, cross-country skiing and snowshoeing.
Getting there: It's about 220 miles from central Phoenix. Take Arizona 87 (Beeline Highway) north to Payson, then Arizona 260 east through Show Low and Pinetop-Lakeside to Arizona 273, on the Fort Apache Reservation. Turn right (south) on Arizona 273. Sunrise Park Lodge is about 4 miles south, and the Sunrise Ski Area is about 3 miles past the lodge.
Tubing: It's like sledding, only you fly down the hill on an enormous inner tube. A tubing hill is behind Lake Ono, off the main entrance. Tube rentals are $8 a day, or you can bring your own tube.
Cross-country skiing and snowshoeing: More than 13 miles of groomed trails are available. Trail passes cost $7 for adults and $4 for juniors. Equipment rentals are $10 a day.
Sleigh rides: $22 per person for a 30-minute ride, and $30 for a 60-minute ride.
Details: 928-735-7669 or sunriseskipark.com
---