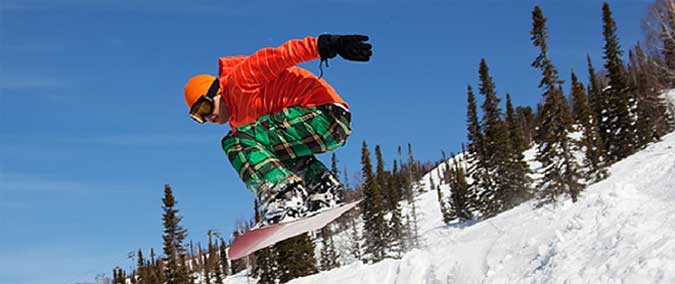 Arizona Snowbowl is one of Arizona's two ski resorts and is located 7 miles northwest of Flagstaff on the iconic San Francisco Peaks. The ski lifts run up Mt. Humphreys, with a summit elevation of 11,500 feet. The average snowfall in the past is 260 inches, but AZ Snowbowl has been given permission to make snow in hopes of providing a more consistent and enjoyable snow season.
---
NEW! SNOWBOWL AND THE MOUNTAIN EXPRESS OFFERS A PILOT SHUTTLE PROGRAM!
This year will be a pilot program with service offered on select days at Arizona Snowbowl. The Mountain Express will connect NAIPTA's Downtown Connection Center on Phoenix Ave., between Milton Rd. and Beaver St. with the Hart Prairie Lodge at Arizona Snowbowl. Additional stops will include the Fort Valley Parking Area at Highway 180 and Snowbowl Rd.
Shuttle Service dates are:
December 26, 27, 28, 29, 30
January 2, 9, 16, 17, 23, 30
February 6, 13, 14, 20, 27
A full service schedule and additional information can be found here, the cost of a shuttle day pass is only $2.50.
---
Lodges
Two lodges are located at the ski area — Hart Prairie and Agassiz. Two additional lodges are located at the base of the mountain on Highway 180, Ski Lift Lodge & Cabins and Fort Valley Lodge.
Sunset Terrain Park
For snowboarders and skiers alike, the Sunset Terrain Park features obstacles, spines, rails, and fun boxes in a great location. The fun boxes include a 24-foot flat box, a 24-foot flat down box, a 20-foot C-box, and a 24-foot house box.
Mountain Specs
Base elevation — 9,200 feet
Summit elevation — 11,500 feet
Vertical drop — 2,300 feet
Skiable acres — 777
Runs — 40 (37% beginner, 42% intermediate, 21% advanced); longest is 2 miles
Chair lifts — 6 (four aerial and two surface conveyors)
Average season — Thanksgiving to mid-April
---
Lift Tickets
Lift Ticket Discounts
Discounted Lift Tickets up to 50% OFF are often available on www.Liftopia.com
Discounts for Groups of 10 and more | Details | Advanced reservation is required.
FREE LIFT TICKET ON YOUR BIRTHDAY
Please present an ID at Guest Services for your complimentary lift ticket.
Offer valid on the day of your birthday only and cannot be rolled over
---
Ski/Snowboard Lessons
TAKE A LESSON FOR FREE
It is FREE to add one 2-hour beginners lesson (Learn to Ski/Snowboard) to your lift ticket and rental equipment package. It is highly recommend that first-time skiers or snowboarders take a lesson with Arizona Snowbowl's Ski & Ride School professional instructors.
For full details on ski/snowboarding lessons, please refer to the Arizona Snowbowl website: http://www.arizonasnowbowl.com/?q=lessons
Adult Lessons
The programs price includes an all-mountain lift ticket, rental equipment, and one 2-hour lesson with the exception of Group Lessons. Lessons start promptly at 10:00 AM and 1:00 PM at the base of the Hart Prairie Lift. Please arrive in your equipment and ready to go at least 15 minutes prior to your lesson time. Registration is available in the Rental Shop.
Children's Lessons
Slide to Success RidgeRunner
Slide to Success RidgeRider
Ages 8-12 - 2 hours/3-Day Lift
Private Lessons
---
Directions
Snowbowl is located 7 miles northwest of Flagstaff on Highway 180. Turn right on Snowbowl Road and continue another 7 miles. The Ski Lift Lodge & Cabins are located on Highway 180, at the base of Snowbowl Road.
» Get directions from your current location
GPS Coordinates
Latitude: 35° 19.51'N
Longitude: 111° 42.339 W
Directions to Arizona Snowbowl from I-17
Continue on 1-17 North through Flagstaff to Milton Road and take it for 3 miles. Milton will go under the railroad tracks and the road will bear to the right. Take a left at Humphreys Street, which is the first stop light. At the third stop light (Hwy 180), turn left. Continue 7 miles to Snowbowl Road and then turn right. The resort is 7 miles up Snowbowl Road.

Written by: