Arizona Snowbowl: Pro Tips for Planning Your Trip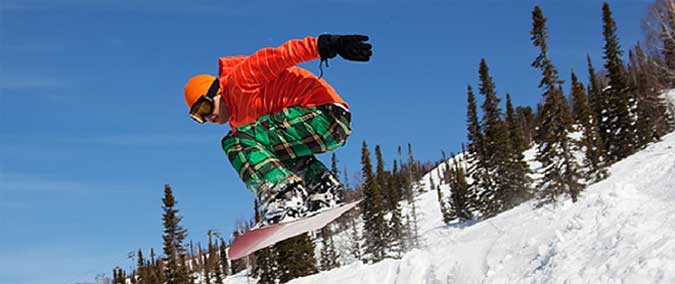 So you're planning on driving to Flagstaff to send it at Arizona Snowbowl. No doubt it's going to be a great time! Arizona Snowbowl is one of two (arguably three) ski resorts in Arizona. The ski resort is located on the San Francisco Peaks with an elevation of 11,500 ft. at the top of the highest chair lift. The lifts do no go all the way up the mountain, but there is an avid backcountry ski culture in Flagstaff that enjoys skinning up to higher elevations and exploring the rest of the range with proper backcountry knowledge, experience and gear. The average snowfall in the past has been 260 inches with some years being much better than others. But Arizona Snowbowl has been given permission to make snow in hopes of providing a more consistent and enjoyable snow season.
Snowmaking is a controversial topic for Flagstaff locals, especially Native Americans. The San Francisco Peaks are sacred to Native Americans and manmade snow is created with reclaimed water. Over the years, there have been protests, petitions and legal efforts made to stop the making of snow. But as of now, snowmaking is actively being done to ensure a better, more consistent snowpack at the resort all winter long.
FIRST THINGS FIRST...
Getting to Arizona Snowbowl
Want a shuttle to pick you up in the Phoenix area and take you directly to Arizona Snowbowl this winter? Check out Alpine Express. They have two pick-up locations, Tempe Market Place and Happy Valley Town Center. This luxury bus will take you and all your snow gear directly to Arizona Snowbowl. You don't have to mess with chains, 4WD or the stress of winter driving conditions! Sit back with your friends and family and relax! This is becoming one of the most popular ways to get to Snowbowl from Phoenix.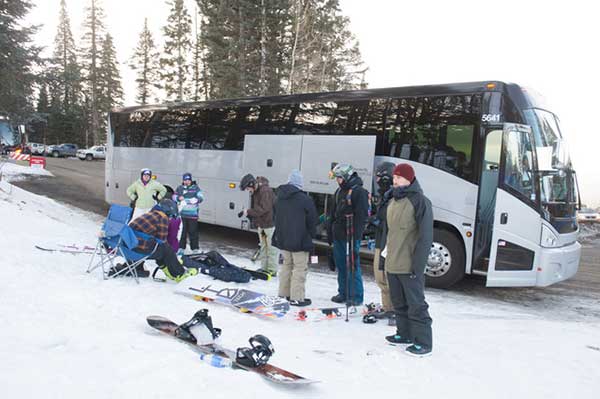 Do you really want to drive yourself and your friends or family back after a long day on the mountain? Go with ALEX and enjoy upgraded seating, plenty of legroom and the comfort that only comes when you leave the driving to someone else.
Alpine Express Schedule & Rates
Pick up from Tempe Market Place or Happy Valley Town Center
Friday, Saturday & Sunday
Tickets: $30-$40 per person
Reserve a Seat »
Directions to Arizona Snowbowl
Snowbowl is located 7 miles northwest of Flagstaff on Highway 180. Turn right on Snowbowl Road and continue another 7 miles. The Ski Lift Lodge & Cabins are located on Highway 180, at the base of Snowbowl Road.
» Get directions from your current location
GPS Coordinates
Latitude: 35° 19.51'N
Longitude: 111° 42.339 W
Directions to Arizona Snowbowl from I-17
Continue on 1-17 North through Flagstaff to Milton Road and take it for 3 miles. Milton will go under the railroad tracks and the road will bear to the right. Take a left at Humphreys Street, which is the first stop light. At the third stop light (Hwy 180), turn left. Continue 7 miles to Snowbowl Road and then turn right. The resort is 7 miles up Snowbowl Road.
Parking, Hitchhiking or Shuttling Up from Flagstaff
If Flagstaff just experienced a snow storm, then you can safely bet that not only will the resort be packed, but that Snowbowl Road will be sketchy and even prohibited to vehicles without chains, AWD or 4WD. There will be a traffic coordinator at the base of the mountain directing people into a lower parking lot or letting capable vehicles through. If you must park at the lower lot, there is a Snowbowl shuttle that will bring you up to the resort. They come about every 20-30 minutes, depending on the conditions and traffic. Hitchhiking is also a common way to get up to the resort. If you see a vehicle that has room for you and your gear on its way up, you wouldn't be the first powder-hungry skiier/snowboarder to ask for a ride up. But please remember to be kind, respectful and grateful if you get a ride up. It's good karma, which is key in keeping hitchhiking up to the mountain alive and well in Flagstaff.
YOU WILL BE TURNED AWAY IF YOU ARE ONLY COMING TO SLED OR PLAY IN THE SNOW. SLEDDING AND SNOW PLAY IS NOT PERMITTED AT ANY TIME AT SNOWBOWL.
** Also, be aware that if you are coming on a 3-day weekend or day right after a powder dumping, Snowbowl could reach maximum capacity and start turning people away. So plan on being at the base of the mountain turning onto Snowbowl Rd. by 8am to guarantee getting a lift ticket on holiday weekends or other peak days.
Free Shuttle to Snowbowl from Downtown Flagstaff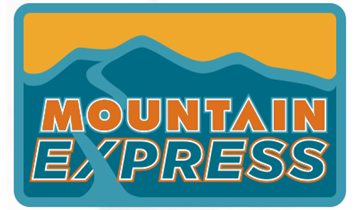 Mountain Express provides FREE shuttle service between Downtown Flagstaff and the Hart Prairie Lodge at Arizona Snowbowl.
Mountain Express Stops
Downtown Connection Center (first bus departs at 7am)
Flagstaff High School Park-n-Ride
Hart Prairie Lodge (last bus departs at 5pm)
Daily service – no longer available
Weekend (Sat/Sun) service – January 11 to February 29, 2020
Hotels Near Snowbowl
Do you need a place to stay? Making a day trip is possible, but incredibly exhausting if you're traveling from the metro Phoenix area. Not to mention traffic and a high likelihood of a traffic backup on the I-17. There are several clean and convenient motels that start at $35/night if you need a place to just rest for the night. If you're making a weekend of it with friends or family, consider a hotel, vacation home or cabin with a hot tub or a fireplace. No ski vacation is complete without the winter accouterment! We've made a few lists of accommodations that you may find helpful.
Hotels with Hot Tubs
Ski and Snowboard Rental
Unless you're buying a ski/snowboard package that includes a lesson and gear at Snowbowl, we recommend renting your gear in town before heading up to the resort. There are several snow gear rental shops in the town that have a variety of higher quality gear at cheaper daily rates. Plus, the people who work at the ski shops tend to have a little more gear knowledge than those up at the mountain. The ski and snowboard rental shops in town also have a wide selection of demo gear if you're feeling adventurous and want to try something different.
Breakfast & Coffee in Flagstaff
Regardless of where you're starting your morning, you're likely going to want something to eat before you start shredding the gnar pow. Guess what? There are more places in Flagstaff to eat and get coffee than Macy's or Starbucks! We love Macy's but there are a few other local breakfast spots on the way to Snowbowl that will get you fed, happy and on your way quite quickly so that you don't waste a minute of your lift ticket. Our recommendation for great food and coffee on the way up to Snowbowl is Kickstand Kafe and Late for the Train on Ft. Valley Road. Kickstand Kafe has incredible breakfast sandwiches, burritos and pastries. They even have a drive through window! Late for the Train has a variety of ready-made burritos to satisfy the most common dietary preferences. Just heat it up while you're waiting for coffee and it's off to the slopes!
Snowbowl Discounts on Lift Tickets, Lessons, Gear Rental and More
Keep an eye out for Snowbowl's kind of amazing discounts and packages. If you don't already have a pass, try to purchase your lift ticket online at least 48 hours in advance. There's a good chance it could be up to 70% less than buying a ticket from the window. Especially in the spring. Snowbowl has this ridiculously good deal in March where lift tickets start at $29, and it includes a FREE $15 gift card and $15 rentals and lessons. The $15 can be used for food and alcoholic drinks. So basically, your lift ticket costs $9. If you've gotten this far on this page, then you should also know that kids age 10 and under get a FREE season pass. No adult pass purchase necessary or anything like that. Kids can just show up, sign up and get a season pass with guardian consent.
Go to Snowbowl's website to check out current discounted online rates: https://www.snowbowl.ski/
---
The best vacation home rental between the Grand Canyon and Flagstaff

Located in the heart of the Coconino National Forest along the San Francisco Peaks scenic corridor between the mountain town of Flagstaff and the Grand Canyon. Less than one hour's drive from the Grand C

…

More

The best vacation home rental between the Grand Canyon and Flagstaff Located in the heart of the Coconino National Forest along the San Francisco Peaks scenic corridor between the mountain town of Flagstaff and the Grand Canyon. Less than one hour's drive from the Grand Canyon National Park south entrance through scenic countryside, this spectacular and convenient location sets The Mountain Star apart from properties located within the city of Flagstaff, the town of Williams and other rural locations. It can be rented for as little as 2 days, but is a perfect place for extended stays. Come experience why The Mountain Star has received well over two hundred (and growing) 5-star reviews.

Environmentally-Friendly | Pet-Friendly

---

Stay in a yurt or cabin at the AZ Nordic Village, a premier outdoor recreation destination just north of Flagstaff. Perfectly situated in the cool pine and aspen forests at 8,000 ft of elevation between Flagstaff and Grand Canyon National Park, the Village offers rustic cabin and yurt rent

…

More

Stay in a yurt or cabin at the AZ Nordic Village, a premier outdoor recreation destination just north of Flagstaff. Perfectly situated in the cool pine and aspen forests at 8,000 ft of elevation between Flagstaff and Grand Canyon National Park, the Village offers rustic cabin and yurt rentals year-round, and summer campsites that are RV-friendly. Frontcountry yurts and cabins are available for those seeking easy access, and five backcountry yurts offer solitude and natural settings with more comforts than a typical backpacking adventure. Many miles of hiking and biking trails leave right from the Village, and there are numerous other activities nearby, including the Lava River Cave, Red Mountain, Arizona Snowbowl, the Arizona National Scenic Trail, and many other hiking and biking trails.

In the winter season, the Arizona Nordic Village hosts a groomed trail system for cross country skiing, snowshoeing, and fatbiking. Over 20 miles of trails offer opportunities for everybody to have a winter adventure!

Environmentally-Friendly | Family-Friendly | Low-Risk Covid-19 Activity | Pet-Friendly | Fireplace(s) | BBQ or Grill

---

Flagstaff Climbing Center is located in historic downtown Flagstaff. The center features over 6500 square feet of widely varied climbing terrain to suit all abilities and climbing styles. Guides are available to hire for outdoor climbing trips. Choose from several areas around Northern Ari

…

More

Flagstaff Climbing Center is located in historic downtown Flagstaff. The center features over 6500 square feet of widely varied climbing terrain to suit all abilities and climbing styles. Guides are available to hire for outdoor climbing trips. Choose from several areas around Northern Arizona including Sedona.

Family-Friendly | Self Guided | Professionally Guided | Groups/Meetings

---