Best Fall Leaf Colors in Flagstaff
Flagstaff is one of the best places in Arizona to experience brilliant fall leaf colors. The cool, crisp, mountain air, sunny skies, forested meadows and aspen groves make fall leaf-peeping a favorite seasonal activity for visitors and locals alike. Because there are limited places in Arizona for people to experience this magical time of the year than many other parts of the country, many of the best places to see fall leaves in Flagstaff can get quite busy. We're going to provide as many up to date resources here so you can keep track of when then leaves change color so you can make the most out of your fall leaf experience and your day. A rule of thumb is to remember to bring a warm jacket and a camera! Get ready to explore and discover enchanting fall leaves like a local!
Where to Find Fall Leaves
Flagstaff typically starts seeing leaves change color at the end of September and throughout October. The peak leaf-peeping time varies depending on elevation, temperature and moisture received throughout the year. You'll still be able to catch fall leaves in November the more south you travel, such as in Oak Creek Canyon on the way to Sedona from Flagstaff.
---
Lockett Meadow
Access to Lockett Meadow Campground is closed to motor vehicles due to the Pipeline Fire Closure. Access to this area now includes a 6-mile round-trip hike.
Lockett Meadow may be the busiest and most popular place to experience fall leaves changing color, and for good reason. Lockett Meadow is a beautiful aspen grove located at the Inner Basin of the San Francisco Peaks. Cozy campsites, well-maintained roads, and a gradual switchback trail up and through the rustling aspens make this place nothing short of magical. The downside is that during the fall, the road up to Lockett Meadow becomes a bumper-to-bumper traffic jam and parking becomes nearly impossible to come by. To ensure a more enjoyable experience, make your way up the mountain in the early morning. Park rangers begin monitoring mountain traffic between 8 AM and 4 PM during peak season. Only 100 cars will be able to access the parking lot at a time. So for the weekend warriors, the early bird gets the worm! If you have the ability to visit Lockett Meadow mid-week, you'll have a much less crowded experience.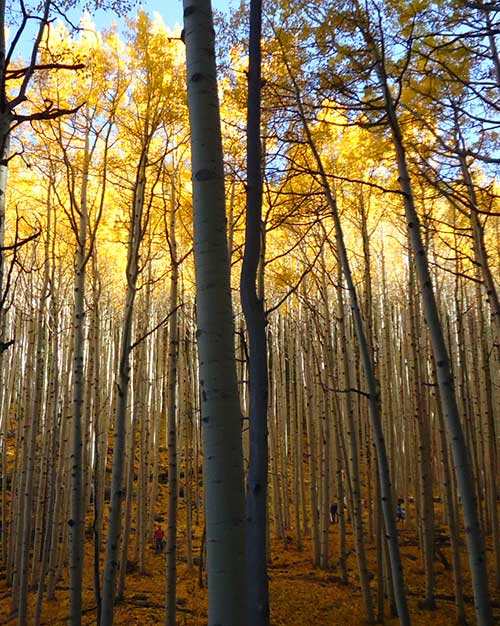 ---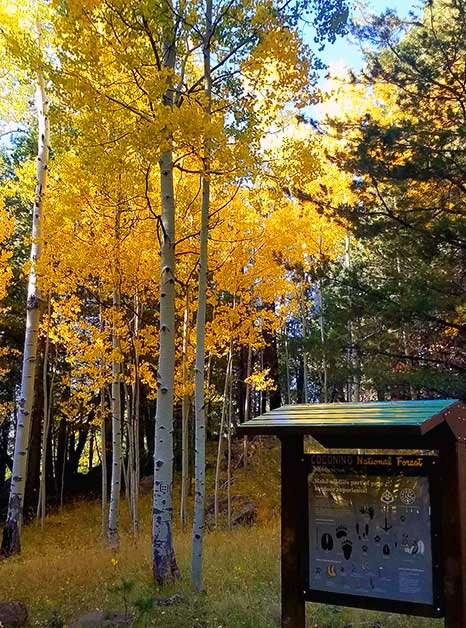 Aspen Corner on Snowbowl Road
Aspen Corner is a beautiful sight you don't want to pass up! On the way up Snowbowl Rd, you'll reach an unmistakable stretch on the road that is draped by golden aspens on both sides of the road. Many people like to just find a safe parking spot off the road and start wandering around from there, but there are many beautiful trails off Aspen Corner that are well worth your time. Make sure to park completely off the road, be considerate of through traffic, and watch for cars as you cross. Many people get distracted by all the colorful leaves and forget common courtesy. Keep the peace and embrace your golden state of mind.
Recommended hiking trail from Aspen Corner: Arizona Trail Passage 34
From the Aspen Corner parking area, follow the trail 4 miles to Bismarck Lake for a whirlwind of aspens on a breezy, winding trail. Elevation range is 8,780 to 9,000 feet.
---
Hwy 89A Between Flagstaff and Sedona
Driving from Flagstaff to Sedona on 89A is arguably one of the most stunning scenic drives in the Southwest. 89A takes you through Oak Creek Canyon, a sandstone and basalt canyon with a seemingly enclosed canopy of brilliant gold, orange, yellow and red leaves lining the road. Beyond the leaves, you'll find streams flowing over boulders and into colorful pools of cool, clear water. Along 89A are also shaded campsites and a couple of small markets and coffee shops making this one of the most convenient yet rewarding places to experience the colors of fall. Crank up the tunes and enjoy Flagstaff's favorite fall leaf commute.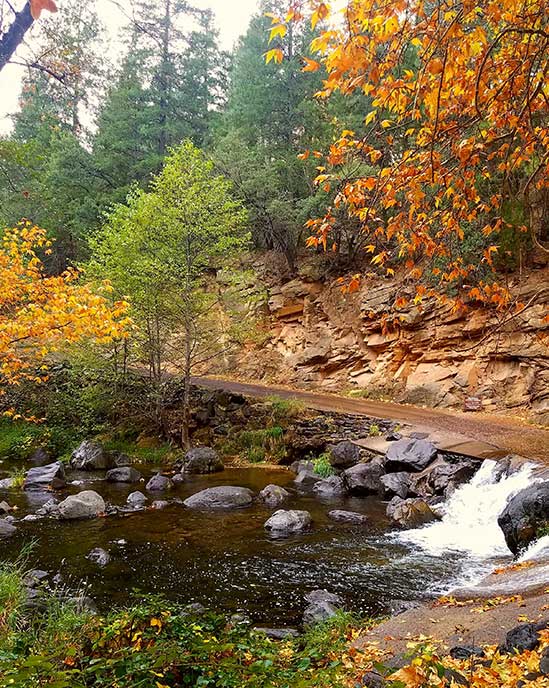 ---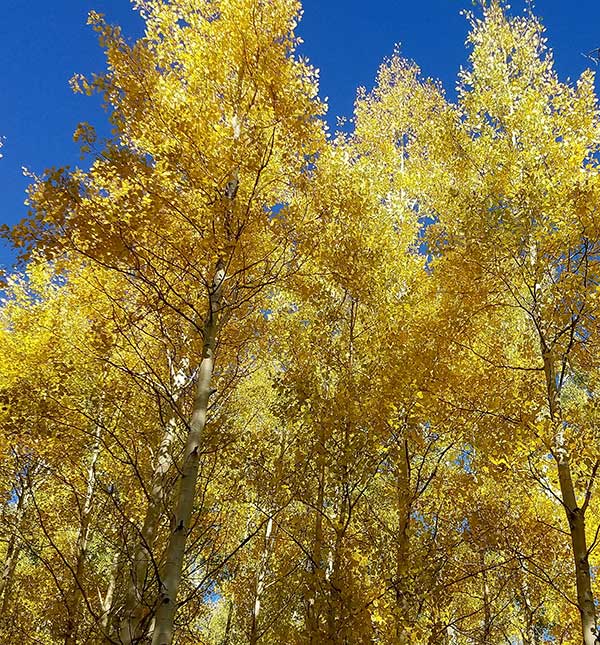 Abineau-Bear Jaw Loop
This 7.2-mile loop on the north face of the San Francisco Peaks might be your best bet for avoiding crowds. It is a rigorous hike that takes you up to a scenic saddle through the moss-draped, spruce-fir woodlands of Abineau Canyon and backs down the aspen-cluttered gorge of Bear Jaw Canyon via a 2-mile connecting walk along Waterline Road. Elevation range is 8,530 to 10,320 feet.
Directions: From Flagstaff, go north on U.S. 180 to mile marker 235 and turn right on Forest Road 151 (Hart Prairie Road's north access). Go 1.6 miles on FR 151 and connect to FR 418. Drive 3.1 miles on FR418 to FR 9123J (signed for Abineau-Bear Jaw), turn right and go 0.6 mile to the trailhead. Dirt/cinder roads are rutted but passable by carefully driven sedans.
---
Flagstaff Arboretum
Get your "pics" off Route 66! The Arboretum is an accessible, convenient way to experience fall leaf-peeping for the whole family. Open 6 days a week and featuring a collection of northern Arizona's most colorful, high-elevation fall-changing flora, the Arboretum is sure to deliver the fall colors you seek. Have a picnic, take a stroll, enjoy the conveniences and resources of the Arboretum, and experience the relaxing atmosphere of fall in town, just off historic Route 66, four miles south on Woody Mountain Road.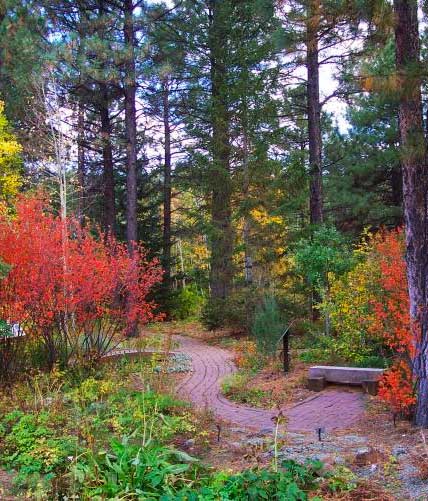 ---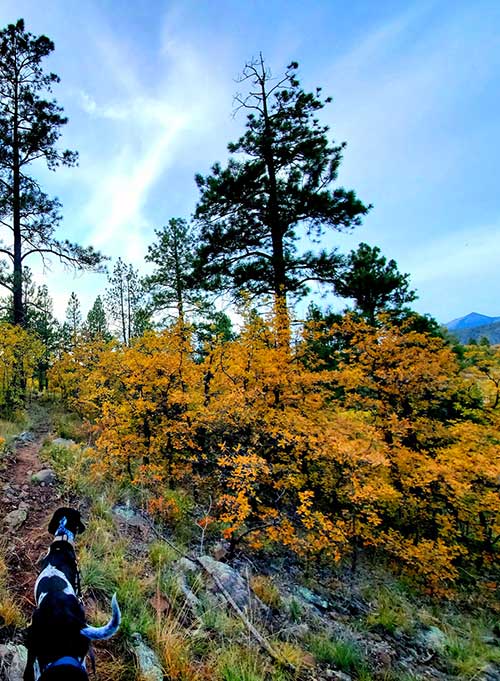 McMillan Mesa Trail
McMillan Mesa Natural Area is a 300-acre protected area located in the heart of Flagstaff with intact native grasslands providing habitat for elk, deer, and other mammals. There is a relatively flat, loop trail on the top of the mesa with views of the San Francisco Peaks and Mt. Elden, which is also part of the Arizona Trail. You can access McMillan Mesa by crossing the footbridge from Buffalo Park. Please be 100% respectful of the wildlife you see here.
---
Arizona Snowbowl
Arizona Snowbowl is the popular skiing and snowboarding resort in Flagstaff. The Scenic Gondola from the ski resort is a great way to get a birds-eye view of all the fall colors happening all over the San Francisco Peaks. Enjoy spectacular views of the mixed fir and aspen tree canopy including a view of the Grand Canyon. Even if you don't want to take a gondola drive, there the Humphreys Peak Trail or the Aspen Loop Trail offers incredible immersive fall leaf experiences as you hike through the alpin glow starting at 9,200ft elevation.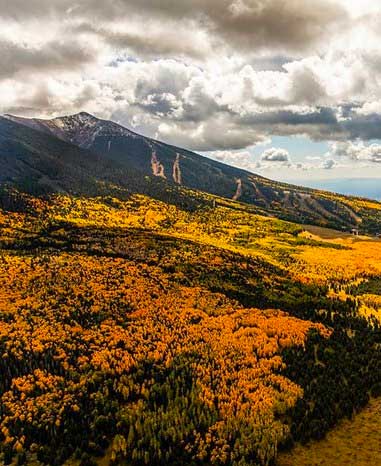 Photo Credit: Arizona Snowbowl
---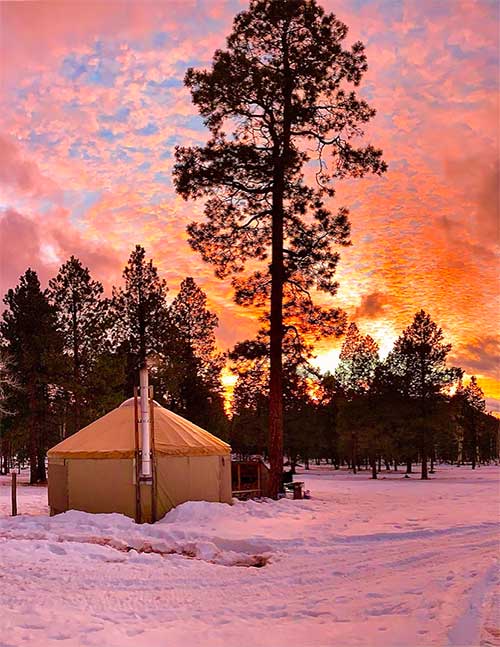 Photo Credit: Arizona Nordic Village
8. Arizona Nordic Village
Arizona Noric Village is a great way to play in nature year-round. From cross-country skiing trails in the winter to mountain biking trails the whole family can enjoy during the summer, this place certainly does not let us down in the Fall. Enjoy walking or riding on miles of maintained paths through pines, firs, aspen and other high-country flora. This magical fall destination also has yurts you can rent right there amidst the glowing fall setting.
---
Best Scenic Fall Color Drives in Flagstaff
1. Hart Prairie Road (FR 151)
North of Flagstaff via HWY 180, past AZ Snowbowl. Right on FS 151. It's a great trip through aspen groves with mountain views.
2. Forest Road 418
North of Flagstaff via HWY 180, past AZ Snowbowl. Right on FS 1515. Right on FS 418. This road takes you to the north side of the mountain for great fall colors, especially near Bear Jaw Canyon. It can be a little fore for passenger cars, but great for SUVs and AWD vehicles. FR 418 ends at HWY 89.
3. Forest Road 794
North of Flagstaff via HWY 180, past AZ Snowbowl. Right on FS 794. A relatively short out and back road with the terminus at a stunning aspen stand and views of the San Francisco Peaks.
4. Snowbowl Road (FR 516
North of Flagstaff via HWY 180. Righ on FS 516 (Snowbowl Road). Beautifully scenic, great colors and paved road.
5. Freidlein Prairie (FR 522)
North of Flagstaff via HWY 180. Right on FS 516 (Snowbowl Road). Right on FS 522 (Freidlein Prairie Rd). A very rough but beautiful out and back. High-clearance vehicles are recommended. Please be respectful of campers as this is a dispersed camping area.
Thank you to Coconino National Forest for putting this list together.
Click Image for Full Fall Color Map »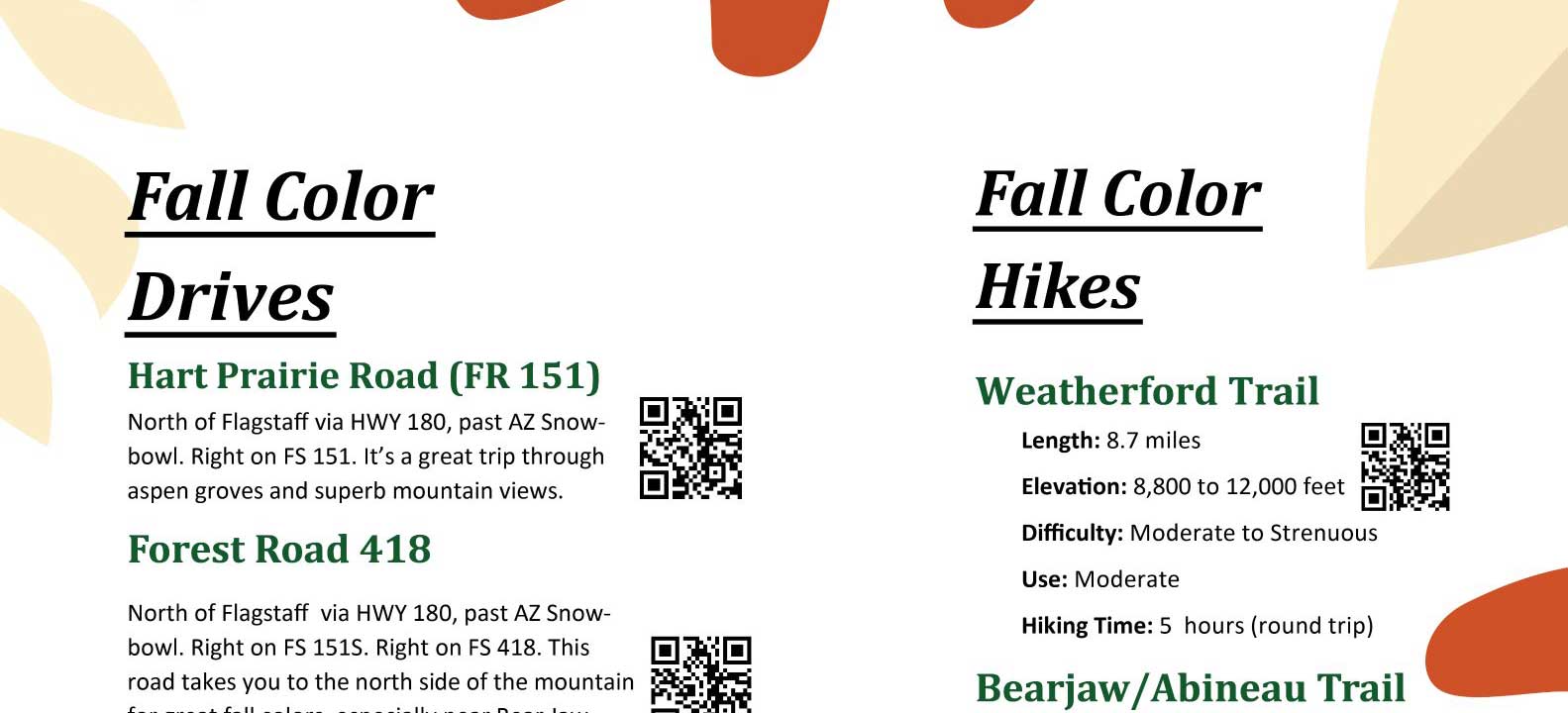 ---
RECOMMENDED THINGS TO DO IN FLAGSTAFF
---
---
---
---
---
---
---
---
---
---
---
---
---
---
---
---
---
---
---
---
---
---
---
---
---
---
---
---
---
---
---
---
---
---
---
---
---
---
---
---
---
---