Best Trails for Dogs in Flagstaff
Flagstaff is a unique town for many different reasons, from our pine trees and microbreweries to our adventure sports-filled lifestyle. One other unique part of Flagstaff is the sheer number of hardcore dog people. What can we say? We love our little furry faces! From Biff's Bagels, who lets people hang up photos of their passed on pooches, to local advertisements for dog-friendly patios to grab a beer with your pup, there are plenty of opportunities to take your dog out on the town. For those who want to experience the great outdoors with their furry friend, here are the 3 best dog-friendly trails in Flagstaff. So grab your bio-degradable poop bags and head out! Just remember, water isn't very prevalent in Flagstaff, so pack a bowl and some water for your pup.
1) Red Mountain Trail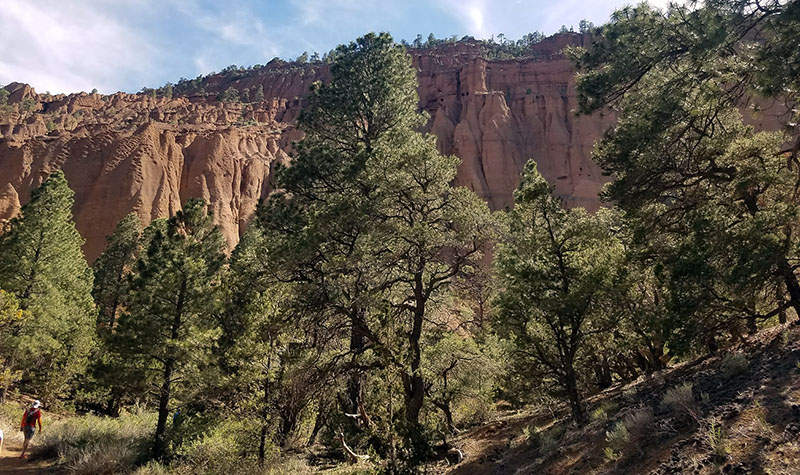 2.5 miles round trip. Just 25 miles north of Flagstaff on Fort Valley Road, this lightly used trail is a favorite among locals to take their pups on due to its lack of elevation change and short duration. This lets dogs have fun, but not get completely exhausted and has to be carried out. During the week, crowds are minimal so locals let their dogs off-leash. Just remember to be considerate of others. Make sure other hikers are alright with your pup, and if your dog does not play well with others, please just keep them on a leash. The trail starts off going through some beautiful juniper trees and slowly eases you into a small pseudo-canyon. After climbing up a small ladder you enter into the caldera of a long-forgotten cinder cone volcano. Pups love this trail because there are many hills for them to run up and down and large rocks to perch atop. Kids also enjoy this trail for similar reasons. There are many twisting and winding off-shoots from the main center for you and your pup to explore, and the cinders are pleasantly soft for your dog's paws. In summer, the cinders can get toasty so keep this in mind and bring some dog booties!
Open Season:Year-round
Usage: Light
Location: 25 miles north of Flagstaff on paved highway.
GPS (Map): 35°32'11.8"N 111°51'23.3"W
2) Old Caves Crater Trail
Photo Credit: Sam McManis | AZ Daily Sun
Varying in length from 2 miles to 3.5 miles. Just east of Flagstaff, this section of trails are great for all dog and human types due to their varying lengths and difficulties. One loop is 2 miles, then there is a 3-mile loop that heads up to the top of a cinder cone speckled with caves -there is something here for everyone. There are amazing views from the top of the hill so it's also a great place for an impromptu photoshoot of your pup with the San Francisco Peaks in the background. Christmas cards anyone? The most popular route is straight up to the top and back down, about 2.5 miles, but it is also the most crowded and most likely to have other dogs on the trail. This route also allows for exploration of the various caves that are on top of the cinder cone, making it an adventure for everyone. If you take one of the smaller, less crowded loops, many locals let their dogs off-leash and the pups love to run around. Please keep in mind that many of these loops are popular, neighborhood trails; so clean up after Fido and pick up any trash you see to help keep the trails maintained.
Open Season: Year-round
Usage: Medium
Location: 3.5 miles northeast of the Flagstaff Mall off U.S. 89
GPS (Map): 35°16'13.1"N 111°32'08.9"W
3) Fisher Point Trail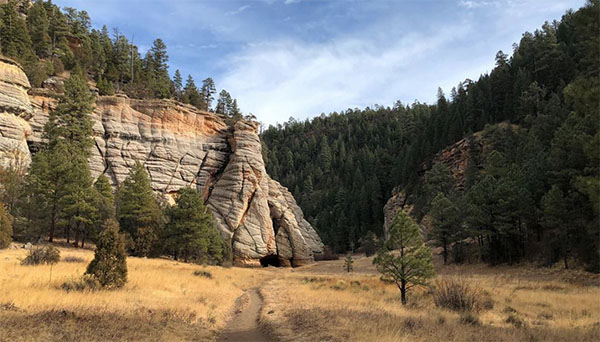 Photo Credit: Masha Erofeeva
This is a popular trail that follows the Arizona Trail. This is a great trail for dogs due to is lack of severe elevation change and interesting smells along the way. There are many starting points including one from the edge of NAU at Lone Tree and Brannen Circle, to Sandy's Canyon Trailhead to J.W. Powell Blvd. The lengths can vary from 4 miles to 12 miles, depending on what you and your pup feel up to. The main attraction on the trail is the rock formation called Fisher Point, which is situated in a field that is perfect for playing a game of fetch. With a fair amount of traffic and even some local wildlife, this trail is great for dogs due to the high level of scents to entertain them and the tall grass that many dogs love to run in. The trail even extends to the beginnings of Walnut Canyon, however, your dog must be on a leash for this portion due to the wildlife fragility of the canyon. In general, leashes are recommended as this trail is often busy. And don't forget to pack out your dog poop bags!
4)Buffalo Park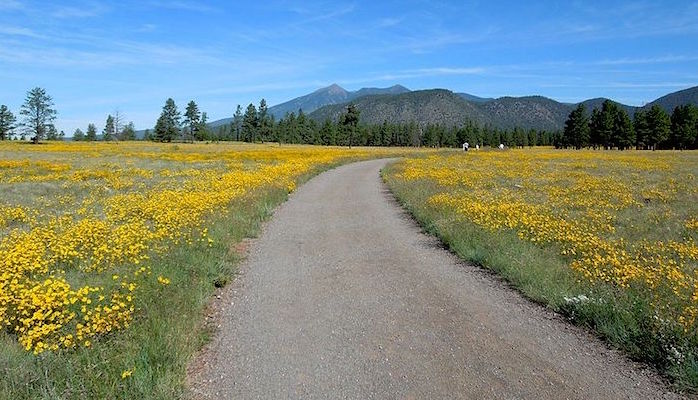 Photo Credit: Great Runs
This an easy, scenic,pet-friendly trail located right in the middle of Flagstaff, just northeast of Downtown. This 2-mile loop goes through what used to be an animal-wildlife viewing park with great views of the Peaks and Mt. Elden. There are many other dogs on this trail, so please use a leash for this one! It is an extremely popular trail on weekends and after work, so the best time to go is during the day on weekdays for minimal crowds, or at night if you want to do some stargazing. Pups like this trail as there are other dogs around with an abundance of smells to check out and other pups to say hi to, making it a very social trail! A family of mule deer frequents this area as well, which can lead to wildlife viewing for both humans and their pups. Buffalo Park is a wonderful choice for older pups who want to experience nature but don't want to navigate uneven terrain. This trail is flat, packed, dirt surface is much easier on those back legs!
Open Season:Year-round
Usage: Heavy
Location: Flagstaff
2400 N Gemini Rd, Flagstaff, AZ 86004 Directions
5) Fat Man's Loop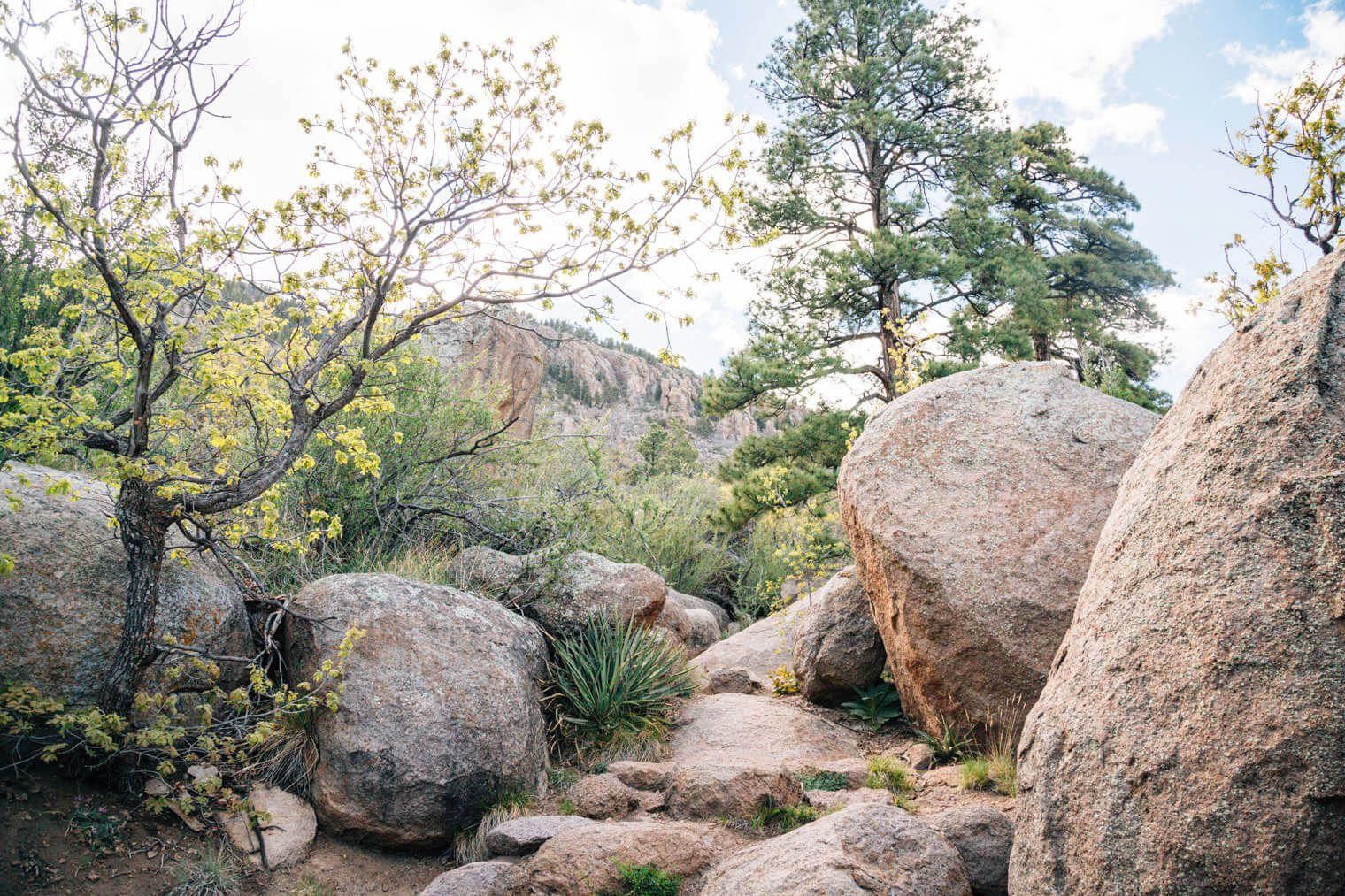 Located on the east side of town by the Flagstaff Mall, Fat Man's Loop trail is a favorite among locals to take their pups on because it has a little bit of everything. From large boulders to perch atop, to small oak trees that when their leaves fall, provide pleasant crunching sounds under their paws, this trail is quite enjoyable. The loop itself is 2.5 miles, but it hooks up to the Mt. Elden Lookout trail, which will give you more elevation gain in fewer miles than hiking up Mt. Humphreys, as well as the Pipeline Trail that goes all the way to Buffalo Park, making great for all levels and desires. The trail starts out straight and then splits after a hundred yards. If you want to do the uphill, steeper part first, go left and enjoy the leisurely long, downhill portion on the way back. However, if your pup may not be able to make the steep climb up the rocks. Head to the right first to enjoy a gentle ascent and then go down the steeper portion. Young, small puppies and older dogs could potentially have a difficult time on this trail as the steep portions have some high steps where they may need your assistance. Leashes are required on this trail.
Open Season: Typically Year-roung
Usage: Heavy
Location: East Flagstaff
GPS (Map): 35°13'49.1"N 111°34'45.2"W
6) Picture Canyon Trail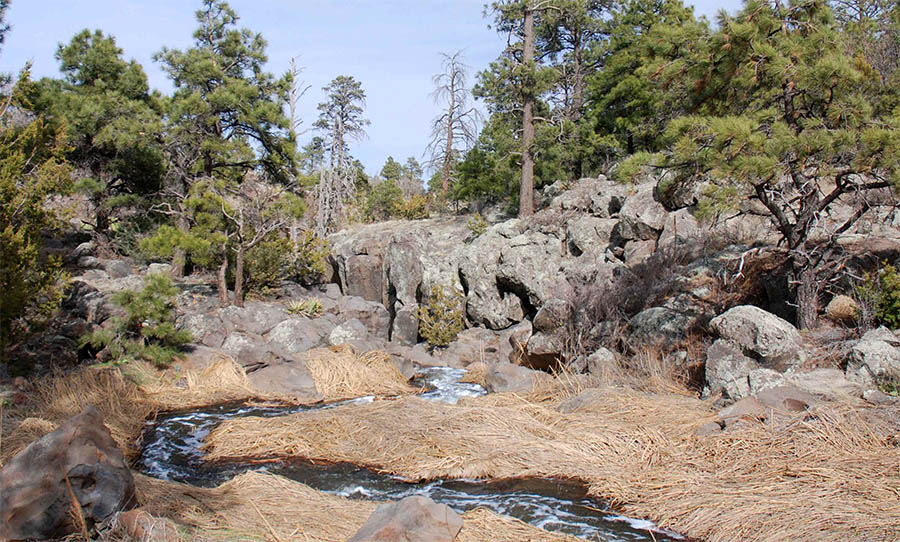 Picture Canyon Trail is great for pups who want to do some waterfowl observing. East of town behind the Flagstaff Mall and by the water treatment plant, this trial has various loops, from 0.7 miles to 2.8 miles, depending on your desires. The trail starts off going by parts of the water treatment facility, which has a fairly large pond that ducks and geese like to paddle around in (it's much prettier than you are picturing!) and pups love to watch them and try to make friends with them.
There is a small canyon that the water runs through forming a waterfall, so be careful that your pup doesn't accidentally fall off the side of it, it can be very dangerous. Leashes are recommended. The trail also goes through oak trees where squirrels aplenty are around so make sure your pup doesn't bolt after these little critters! It's almost like this trail was made to tease dogs with some of their favorite things. Please pick up your dogs presents because this trail is near water, and we don't want to disturb the natural and delicate balance that lets this special ecosystem thrive.
Open Season: Typically Year-roung
Usage: Moderate
Location: East Flagstaff
3920 N El Paso Flagstaff Rd, Flagstaff, AZ 86004 Directions
---
MORE PET-FRIENDLY HOTELS & THINGS TO DO
---
---
---
---
---
---
---
---
---
---
---
---
---
---
---
---
---
---
---
---
---
---
---
---
---
---
---
---
---
---
---