Lower Risk Flagstaff Activities During Covid-19
The first thing that should be expressed is that staying home right now during the Covid-19 pandemic is the best thing you can do for yourself and our communities. But we've all been staying home for so long that a little time in nature, cool weather and a change of scenery can be much needed during this time. It's been difficult to balance the need to enjoy and still live life while keeping yourself and your loved ones safe. Flagstaff has been seeing record numbers of campers and outdoor recreationists flooding into the forests, lakes and trails this summer. So the next thing to be addressed is that our resources have become so polluted with trash, toilet paper, beer cans, and plastic material that our forest service is considering shutting down a lot of the camping areas. So if these amazing areas are to stay open, everyone has to do their part and pick up after themselves 100% of the time when recreating in our forests. This means packing out your trash, and even pooping in the woods correctly. And really, who wants to camp in a sea of other people's dirty toilet paper? Just so you get an idea of what's going on in Flagstaff right now: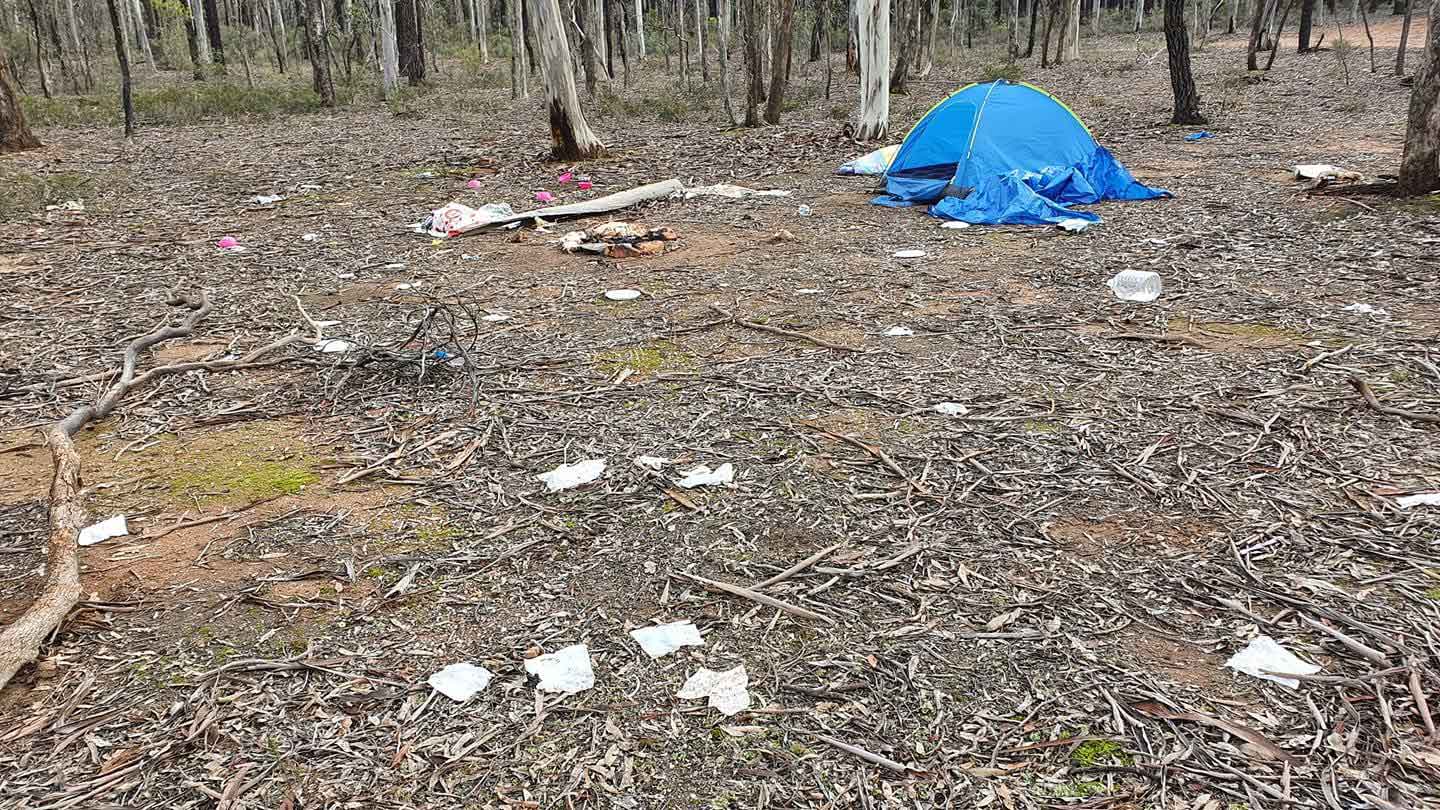 Fall Leaf Peeping
Now that it's fall, searching for those glorious, golden leaves offer many delights during this time of year (and during these crazy times). Start looking in the higher elevations during the second week of October and work your way down to Sedona in the earlier days of November to see the most fall colors. For a recommended list of the best places to start your fall season, see our Fall Leaf Color Guide.
Best Fall Leaves in Flagstaff »
Camping
Abiet this is a given, you can never get enough fresh air and nights sleeping under the stars. Hanging with friends and family, drinking beers and whiskey, sharing stories, fishing, exploring, playing camp games... it's good for the soul, which is what we need right about now. Not all campgrounds are open or being serviced yet, but you can still camp in dispersed camping sites or BLM. The rule is though, you pack it in and you pack it out. Don't leave toilet paper, trash, cans, broken bottles, etc.
Hiking, Backpacking & Exploring
You know all those trails, big hikes (like Humphreys), backpacking trips that you've been putting off? Now's the best time to do it! The bigger you go, the fewer people you'll encounter.
Swimming Holes
There's a lot of them in central and northern AZ. The most popular are Lake Mary, Slide Rock, Grasshopper Point, Wet Beaver Creek, West Clear Creek, Blue Ridge Reservoir, and the Verde River. Those are all fantastic! But if you'd like to stay away from the crowds, going during the week or exploring some of the less popular swimming holes is the way go.
Kayaking or Stand Up Paddleboarding at Lake Mary, Marshall or Ashurst Lakes
These multi-recreational use lakes are fantastic for paddling around on. Float around in the cooler temps and jump into the water to cool down even more.
Hire an Outdoor Adventure Guide
Did you know northern Arizona offers some of the best rock climbing, canyoneering and outdoor adventures in the world? Now's a great time to hire a private guide to take you on an experience of a lifetime. These adventures, by its own nature, can only be done with a few people at a time COVID-19 or no COVID-19. Who knows? Maybe you'll love it so much that it might just put you on a new path towards learning the skills to do these big, technical adventures on your own! If that's the case, you'll have a whole world of adventures and things to explore ahead of you.
Outdoor Tours
Some Flagstaff area tours that come to mind are Ebike tours, hot air balloon rides, tandem paragliding rides, guided hikes down the Grand Canyon or Sedona, Segway tours, kayaking tours and river trips. Thank goodness there's so many amazing things to do in northern Arizona!
Mountain Biking, Cycling or E-Biking
Good luck not social distancing while riding a bike! Flagstaff and Sedona have some of the most beautiful trails to ride your bike on. Not to mention the cool weather makes it much more enjoyable. Check out Mountain Bike Project to find the best trails in your skill level and terrain preferences. A popular cycling route is on Lake Mary Rd. Park at any of the pullouts and ride past Lake Mary and back. If your cardio is up to snuff, consider renting an e-bike! You'll find riding one of those babies around downtown, Buffalo park and even som mountain bike trails to be quite a thrill.
Hitting the Trails
Whether you're a trail runner or hiker, getting out on the trails a fantastic way to spend time out in nature and minimize the number of people you're around. Take the pup out for a little jog and see how much terrain you can cover on foot. Take breaks...take pictures! This is for you. Enjoy your solitude in this beautiful place.
Fishing
This old past time is cross-generation friendly. It's a great way to spend time with your family of all ages while honing in on those basic survival skills. Lake Mary, Marshall and Ashurst Lakes are near each other and are stocked with trout and other fish, too!
Creating Art
The busy world pre-COVID-19 often got in the way of making time to create. This is a fantastic time to pay attention to your creative side and northern Arizona is the perfect place to get inspired. Whether you want to work on your painting, sculpting or photography skills, or you're already an expert and just need some fantastic subjects worth your talent and time, Flagstaff, Grand Canyon, Sedona and Page offer some truly unique and remarkable sights, culture, people and experiences that are sure to inspire you.
Rent a Cabin or a Yurt
Hide away from the world and surround yourself with nature in a wooded cabin from Arizona Mountain Inn or yurt at Arizona Nordic Village. These little escapes offer seclusion and trails right our your doorstep. The fun starts where you stay.
---
MORE LOWER-RISK COVID-19 ACTIVITIES
---
---
---
---
---
---
---
---
---
---
---
---
---
---
---
---
---
---
---
---
---