Flagstaff WILL be celebrating this Fourth of July with fireworks!
Lights on the Lawn - Continental Golf Course
Continental Country Club 2380 N. Oakmont Drive
The Oakmont hosts fireworks, in addition to live music, kid's zone, food court and a beer garden. The Kid's Zone features 4500 square feet of arts, crafts and games, plus a 150-foot water Slip n' Slide. Live music from Buckit and the Mother Road Trio. Event is from 3-11pm; Fireworks begin between 8:30 - 9:30pm.
The parking lots open at 4 p.m. The cost to park is $10 but the event is free. The fireworks start at dusk. Families should expect to arrive before 7:30 p.m. in order to find a seat and a parking spot. The event also includes a food court, a beer garden, and kids activities by the YMCA.
---
Other 4th of July Festivities in Flagstaff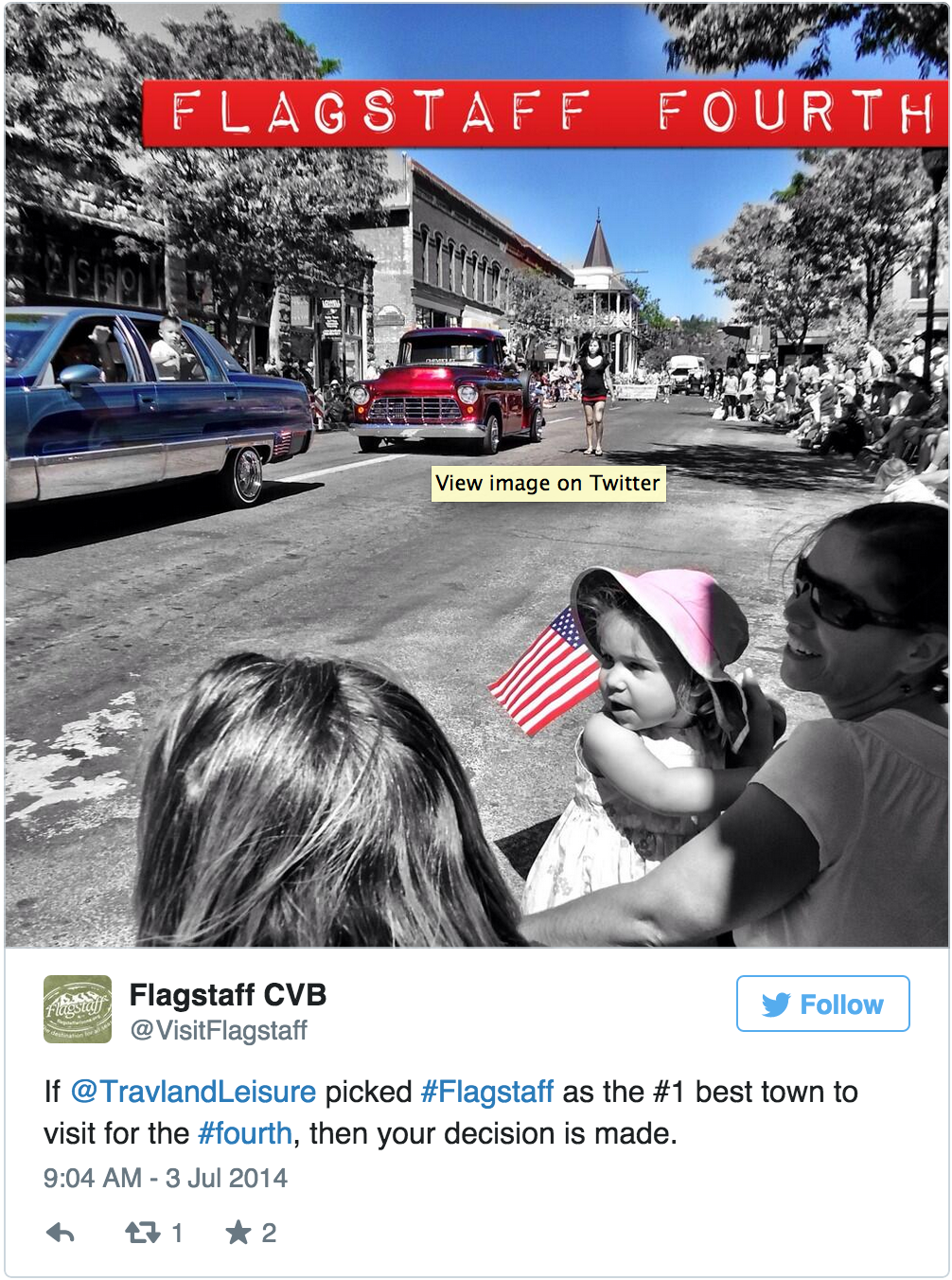 19th annual Fourth of July Parade
9 a.m. This year's parade, which was recently cited by Travel & Leisure magazine as its main reason to name Flagstaff the best town for celebrating the Fourth of July, has more than 100 entries and is expected to attract 10,000 people.
The parade starts at Beaver Street and Elm Avenue. It marches south to Aspen Avenue, then east to San Francisco Street, and then north on San Francisco back to Elm Avenue.
---
Running Races
The Downtown Mile starts from Heritage Square and the first of four waves of runners goes off at 6:45 a.m.
The Four on the Fourth A race progressive head starts by age and gender, starts at 7 a.m. from the historic Flagstaff Flagpole on Thorpe Road.
---
Ford Mustang's 50th birthday Car Show
10 a.m. to 2 p.m. at Babbitt Ford, 11 N. Verde St. There's a free barbecue from 11 a.m. to 1 p.m.
---
The Hopi Festival of Arts and Culture
Saturday and Sunday at the Museum of Northern Arizona, 3101 North Fort Valley Road.
9 a.m. to 5 p.m. The cost is $10 for adults, $9 for seniors over age 65, $7 for students with an ID, $6 for American Indians, $6 for children ages 10 to 17 and children 10 and under are free.
The festival will have more than 60 artists as well as traditional music, dancing and food. There will also be children's activities.
---
A Flag Fourth - The Flagstaff Symphony Orchestra
Annual free Independence Day concert. Enjoy an afternoon of patriotic music under the pines, performed by Flagstaff's very own professional orchestra! Pepsi Amphitheater at Fort Tuthill Park, 2pm, 800-956-6123.