Visitor Info
The most obvious and frequently-asked questions we get from visitors at Flagstaff.com center around directions, transportation and maps. After all, getting here is the most important step before you ever check into your lodging or hit the mountains with your boots, bike or board. While there's no telling what your individual travel style and requirements may be, it's probably helpful to understand that most people arrive in Flagstaff by car, starting from Phoenix (usually Phoenix Sky Harbor Airport). Flagstaff is about 151 miles north of Phoenix Sky Harbor Airport, which takes about 2 hours 15 minutes to drive. If you're not coming from Phoenix, get directions and driving distances from your particular departure city.
Driving yourself is the best way to get to Flagstaff because you'll find yourself using your car each day of your vacation to explore Flagstaff's 64 square miles, not to mention the fascinating scenic drives, day trips, attractions and cultural sites throughout northern Arizona, including the Grand Canyon and Petrified Forest National Parks. Plus, the expense of renting a car or putting gas in your own vehicle is comparable to the total cost of airport-to-Flagstaff shuttles, which run about $45 per person each way. However, Flagstaff also has a strong bicycle and motorcycle culture, so if you want to ditch the gas-guzzler and rent or ride a bike while you're in town, you'll fit right in (and you'll avoid Flagstaff's traffic and parking congestion.)
To get to Flagstaff from Phoenix, take I-17 north 149 miles toward Flagstaff, where the interstate transitions into Milton Road. Milton then turns into Route 66 / Santa Fe Avenue in the heart of downtown Flagstaff, where you'll find many Flagstaff attractions, the Amtrak and Greyhound station, shopping, lodging and other businesses.
When planning your vacation to Flagstaff, it helps if you familiarize yourself with where Flagstaff is located within Arizona. You'll have a better understanding of all that is available within a day-trip from Flagstaff — Phoenix, the South Rim of Grand Canyon National Park, Rim Country, Navajo Country and more.
The second most frequently asked topic area is related to Flagstaff weather, what to pack and when to visit. Flagstaff lures in visitors year-round with its four-season climate. The summers are glorious and cool with temperatures in the 70°s (Fahrenheit) in the day and during monsoon season (late summer), Flagstaff often gets refreshed with afternoon rain. Flagstaff is also known as the "Dark Sky City" so camping and star-gazing is among one of the favorite things to do in the summer for Arizonans. Fall weather brings around the glowing aspen and oak leaves with day temperatures in the mid-60°s and lows in the 30°s. Winter in Flagstaff is snowy with freezing temperatures. Make sure you're prepared with full-winter clothing, and chains for non-4-wheel-drive vehicles are not a bad idea. Make sure to check road conditions in the winter at www.adot.gov. Spring is beautiful with warming temperatures, but still on the cool side. It's always a good idea to bring light jackets or sweaters when in Flagstaff, because it can be quite windy even on those warmer days.
Visitors to Flagstaff can easily experience the destination as a one-day to a two-and-a-half day trip with 1 — 2 overnight stays. Make the most of the day by arriving in Flagstaff in the early morning (allow for driving time from Phoenix or where-ever your trip begins) to view the San Francisco Peaks bathed in morning, midday and late afternoon light during your visit. No matter how long you stay, plan to spend a bunch of time outdoors. Walk around downtown, do a hike or two, and roam around NAU's campus. We will give you point-by-point "Greatest Hits" lists of things to do in Flagstaff on a One-Day or a Two-Day Itinerary. And of course, you can mix up these itineraries or reverse them entirely. Flagstaff is so laid back, almost nothing (except the train and guided tours) happens on a particular timetable, so relax and go with the flow of Flagstaff's youthful, outdoor-focused energy.
Flagstaff's real estate market is hot for people relocating to northern Arizona for their careers or retirement, buying vacation homes and cabins, or investing in apartments and condos to rent to college students. Housing prices are on the rise, and the average housing price per square foot is similar to cities like Portland, OR; Bend, OR; Salt Lake City, UT; Denver, CO; and Fort Collins, CO. Popular for its year-round outdoor weather, diverse landscapes, glittering lakes, aspen and pine forests and majestic mountains, Flagstaff is many buyers' dream scenario. The population is educated, well-paid, has a diverse ethnic profile and the average work commute time is well under the national average. Contact a local realtor — a true expert in Flagstaff, Arizona real estate — to help you navigate the Flagstaff real estate market and find the best value.
Northern Arizona University is at the heart of Flagstaff. Located along Milton Road/Route 66 in West Flagstaff, there are about a dozen hotels near NAU, many of which are within walking distance.
From Northern Arizona University's website, www.nau.edu:

With its solid reputation as a university with all the features of a large institution but with a personal touch, NAU carefully balances teaching, scholarship and service with a faculty and staff dedicated to each students' success.

The emphasis is on undergraduate education, but you'll also find a wide range of graduate programs and research that extend to such national concerns as forest health and bioterrorism. NAU has carefully integrated on-campus education with distance learning, forming seamless avenues for students to earn degrees.
Northern Arizona University Flagstaff Campus At-a-Glance (as of Fall 2012):
Undergraduate Enrollment: 18,292
Tuition:

Incoming Arizona resident — $8,453 (guaranteed for four years)
Incoming nonresident — $20,808 (guaranteed for four years)

Degrees:

78 Undergraduate Degrees
58 Master's Degrees
68 Online degree programs

Average Class Size: 30
Average High School GPA of new freshmen: 3.4
Faculty: 900 full-time
Campus: 738 acres, including 24 residential buildings
Are you bringing your NAU Lumberjack to the Flagstaff campus for a college tour or the beginning of a new school year? Check into one of the hotels near NAU and read our guide to visiting Northern Arizona University, including where to stay, where to shop for school supplies, books, stuff for your dorm or apartment, plus tips and links for finding off-campus housing.
Written by:
Christina Hecht
Tweet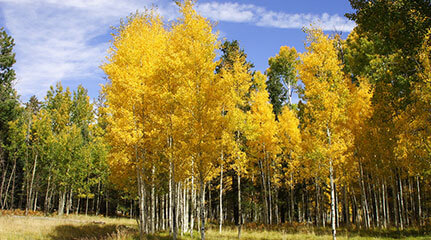 FLAGSTAFF, AZ WEATHER
Check out the weather conditions before you come. Winter and summer are popular, but there's no bad time to visit Flagstaff.
See Flagstaff Weather »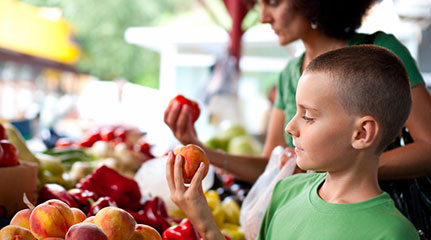 WHAT'S ON THE CALENDAR?
Our Flagstaff Event Calendar is full of festivals, workshops, art fairs, concerts and classes. Browse or add your event.
See the Event Calendar »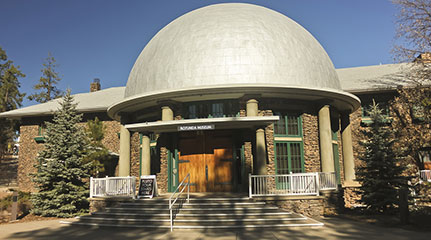 IF YOU ONLY HAVE ONE DAY TO SEE FLAGSTAFF
These are the essential things you MUST do to get the most out of your day trip.
Plan Your Day Trip Here »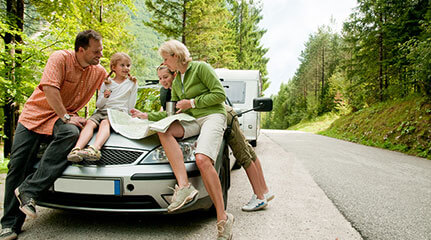 DRIVING DIRECTIONS TO FLAGSTAFF
Getting to Flagstaff is the first step. Driving is the most popular and practical way to get here.
Get Driving Directions from Nearby Cities »