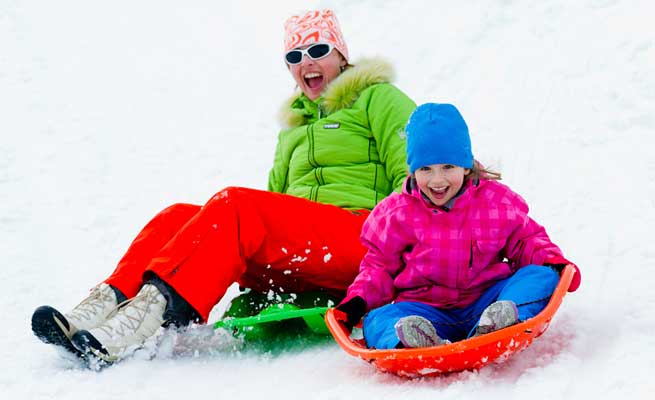 ---
---
CLEAN UP YOUR TRASH AND DO NOT LEAVE BROKEN SLEDS AND GARBAGE IN THE FOREST!!
---
Wondering where to take the kids sledding or tubing in Arizona? Or maybe you're just looking for a great place the whole family can enjoy playing in the snow, cross-country skiing, sleigh rides and even making snowmen!
Flagstaff Nordic Center
The Flagstaff Nordic Center offers snowshoeing, cross-country skiing, snowman building and pull-behind sledding and night play on Fridays when conditions allow. Downhill sledding is available at Crowley Pit, just 1 mile past the Flagstaff Nordic Center. The center is open daily has 40 kilometers of trails.
Getting there: The center is about 15 miles northwest of downtown Flagstaff and 160 miles from central Phoenix. Head north on Interstate 17, which leads into Milton Road in Flagstaff. Follow Milton Road downtown to U.S. 180 north. The parking lot is along the highway at mile marker 232.
Hours: 9 a.m. - 4 p.m. daily and 6-9 p.m. Fridays if conditions allow.
Skiing: Reservations for equipment rentals must be made by 3 p.m. three days before your visit. Skis and rental packages range from $10 - $20/day, and trail passes are priced at $10 - $18/day.
Snowshoeing: The center has about 9 miles of marked snowshoe trails, and dogs are allowed if kept under control. Reservations are suggested to ensure equipment availability. Trail passes and snowshoe rentals are $10 - 18 per day each.
Sledding: A sledding area is near U.S. 180 at Crowley Pit, about 1 mile past the Nordic Center. The pit's parking area is not maintained, but portable toilets and a garbage can are available. Several hills with various grades and lengths are available. Learn more about Crowley Pit, a Forest Service site, at flagstaffnordiccenter.com/snowplay.php
Details: 928-220-0550 or flagstaffnordiccenter.com
---
Wing Mountain Snow Play area
This area offers small sledding hills and moguls for tots, as well as areas for skiing, snowshoeing and other snow play. Food and hot drinks are available.
Getting there: It's about 150 miles from central Phoenix. Take I-17 north to Milton Road into downtown Flagstaff, then U.S. 180 north. At mile marker 226, 2.8 miles past Snowbowl Road, turn left onto Forest Road 222B.
Hours: 9 a.m. - 4 p.m. daily.
Admission: $15 per vehicle. Sleds are available for purchase.
Details: 928-226-0493 or snowplayaz.com
---
Sunrise Park Resort
Known for its downhill ski runs, Sunrise also offers tubing, cross-country skiing and snowshoeing.
Getting there: It's about 220 miles from central Phoenix. Take Arizona 87 (Beeline Highway) north to Payson, then Arizona 260 east through Show Low and Pinetop-Lakeside to Arizona 273, on the Fort Apache Reservation. Turn right (south) on Arizona 273. Sunrise Park Lodge is about 4 miles south, and the Sunrise Ski Area is about 3 miles past the lodge.
Tubing: It's like sledding, only you fly down the hill on an enormous inner tube. A tubing hill is behind Lake Ono, off the main entrance. Tube rentals are $8 a day, or you can bring your own tube.
Cross-country skiing and snowshoeing: More than 13 miles of groomed trails are available. Trail passes cost $7 for adults and $4 for juniors. Equipment rentals are $10 a day.
Sleigh rides: $22 per person for a 30-minute ride, and $30 for a 60-minute ride.
Details: 928-735-7669 or sunriseskipark.com
---
Elk Ridge Ski and Recreation Area
Named for the ridge line south of the ski area, this site once was known as the Williams Ski Area. Tubing, cross-country skiing and snowboarding are available. The lodge has been renovated and is under new management. Check their website for schedules and holiday closures.
Getting there: It's about 180 miles from central Phoenix. Take Interstate 17 north to Flagstaff and Interstate 40 west to Williams. Go south on Fourth Street, which turns into Perkinsville Road, then Ski Run Road to Elk Ridge.
Hours: 10a.m.-5:00 p.m. Saturdays and Sundays.
Prices: $20 Adults ages 13+; $15 Kids ages 4-12; $40 Family (2 adults, 2 children under 13); Free for children younger than 4 with an Adult.
Details: 928-814-5038 or elkridgeski.com
Here are a few additional handy resources for weather, road conditions and area snow reports:

Written by: