Flagstaff Weather
Chances are that one of the key motivating factors in planning your vacation to Flagstaff is its four-season climate with mild summers and moderately snowy winters, right? You're probably wondering about the forecast for your specific trip dates, and you're likely interested in getting some advice on what kind of clothes to pack and when is the best time visit.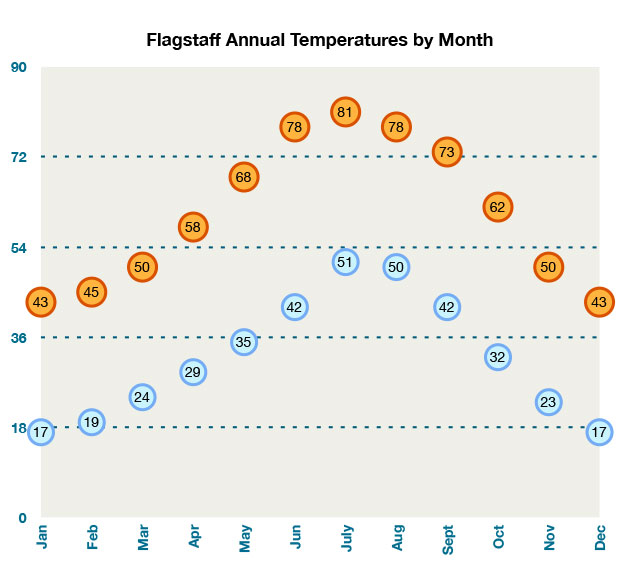 The summer and winter are the most popular times of the year, due mainly to Flagstaff's ideal weather conditions of blue skies and daily high temperatures in the mid-70s to low 80s (degrees Fahrenheit) in summer, and powdery snowfall perfect for winter sports. However, as one can see from the average temperatures each month of the year, there is no bad time to visit Flagstaff, and in fact, coming to Flagstaff in lower seasons such as spring and late fall, or Sunday through Thursday year-round, is a great time to find bargains and fewer crowds.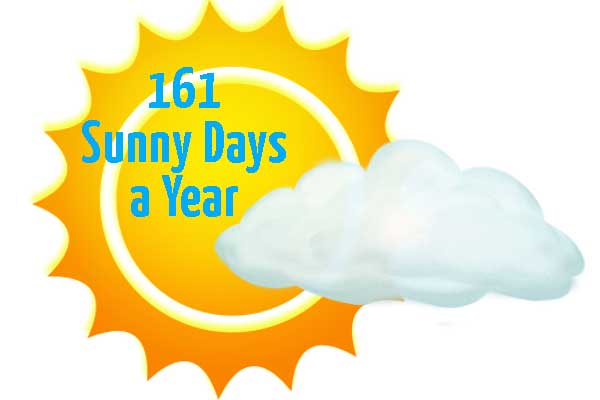 Flagstaff enjoys 161 sunny days per year, 101 partly cloudy days (40 - 70% cloud cover) and 103 cloudy days (80 - 100% cloud cover). Be sure to pack a brimmed hat, comfortable sturdy shoes, a camera and a high SPF sunscreen year-round. At Flagstaff's high elevation, UV rays are more intense and damaging, increasing your risk for skin and eye damage. Sun protection at high altitudes is a must.
At an elevation of 6,910 feet (2,106 meters), Flagstaff receives an average of 100.3 inches of snow in the winter, making skiiers and snowboarders ecstatic without making residents miserable. Do use caution when driving up I-17 toward Flagstaff in the winter; as you climb, you're more likely to experience snowy conditions on the otherwise easy route.
In the summertime, Flagstaff experiences rainfall mostly during the August monsoon season. When the dew point rises in the late summer months, Arizona experiences quick, intense thunderstorms. These monsoons contribute to rapidly shifting swings in weather, but locals will tell you that the monsoon season is one of their favorite times of year because it brings relief to seasonally high temperatures and makes the landscape incredibly verdant and fragrant. Use caution when hiking near springs and swimming holes; a surprise thunderstorm can cause dangerous flash flooding or ruin a return hike back to your car.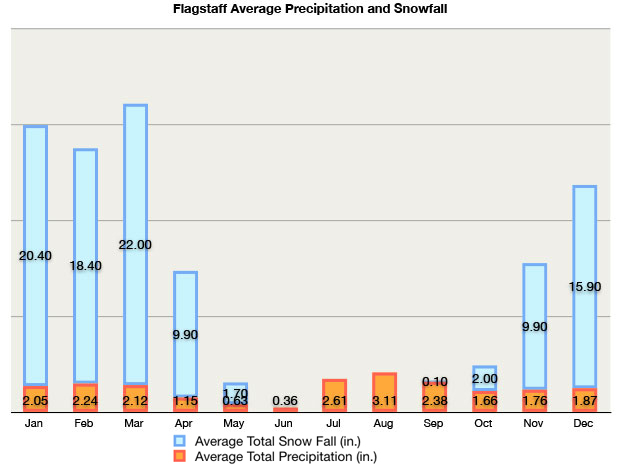 Written by:
Christina Hecht
Tweet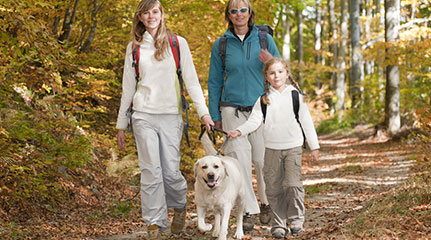 TAKING YOUR FAMILY TO FLAGSTAFF FOR VACATION?
Here are some of the most family-friendly hotels in Flagstaff and some things to do that should keep everyone happy…at least for a while.
See Family-Friendly Flagstaff »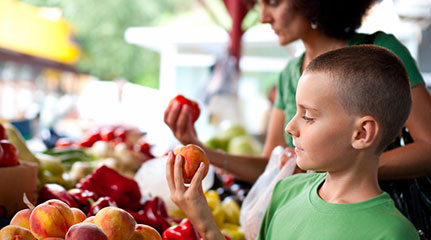 WHAT'S ON THE CALENDAR?
Our Flagstaff Event Calendar is full of festivals, workshops, art fairs, concerts and classes. Browse or add your event.
See the Event Calendar »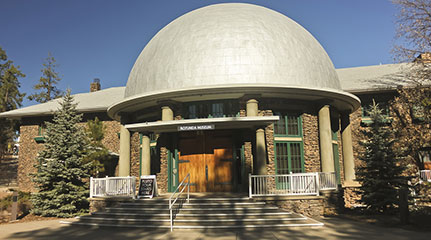 IF YOU ONLY HAVE ONE DAY TO SEE FLAGSTAFF
These are the essential things you MUST do to get the most out of your day trip.
Plan Your Day Trip Here »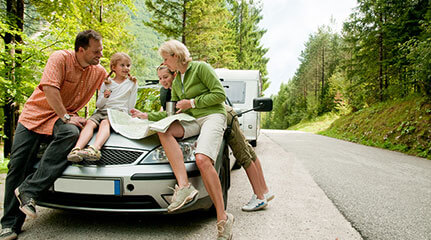 DRIVING DIRECTIONS TO FLAGSTAFF
Getting to Flagstaff is the first step. Driving is the most popular and practical way to get here.
Get Driving Directions from Nearby Cities »