Directions
Directions from Phoenix to Flagstaff
To get to Flagstaff, from the Phoenix airport, follow signs for Downtown/I-10 and merge onto I-10 West toward Los Angeles, then take exit 143A for I-17 North toward Flagstaff. (All Phoenix-to-Flagstaff routes pick up at I-17 North eventually.) In 149 miles, I-17 will end and turn into Milton Road/US Route 66/Santa Fe Ave., leading you into Downtown Flagstaff.
151 miles, 2 hours 15 minutes
Directions from Sedona to Flagstaff (there are two ways you can get to Flagstaff from Sedona and vice versa)
OPTION 1 – (This route is via Highway 89A through Oak Creek Canyon recommended for its beauty and short distance. Take it in good weather and daylight.) Take Highway 89A north 25 miles through Oak Creek Canyon. Take I-17 north to enter Flagstaff (2 miles.)
27 miles, 40 minutes
OPTION 2 – (If it is snowing, use this route.) Take Highway 179 south 15 miles through the Village of Oak Creek. Take I-17 north to Flagstaff about 41 miles. This route takes about an hour from Sedona to Flagstaff.
56 miles, 1 hour
---
Directions from Flagstaff to Sedona
OPTION 1 – (This route is via Highway 89A through Oak Creek Canyon recommended for its beauty and short distance. Take it in good weather and daylight.) Begin taking I-17 south from Flagstaff. Just 2 miles south of the junction of I-40 and I-17, exit at Highway 89A (exit 337). This takes you on a breathtaking 25 mile drive through Oak Creek Canyon.
27 miles, 40 minutes
OPTION 2 – (If it is snowing, use this route.) Take I-17 south from Flagstaff about 41 miles to State Highway 179. From there, go about 15 miles north on Highway 179 and you will enter Sedona. This route takes about an hour from Flagstaff to Sedona.
56 miles, 1 hour
Directions to Grand Canyon South Rim and back (there are three ways you can get to the South Rim from Flagstaff)
OPTION 1 – Directions to Grand Canyon South Rim via I-40 and AZ-64
Take I-40 west toward Williams to Highway 64. Take Highway 64 north directly to the main entrance to the South Rim of Grand Canyon National Park.
90 miles, 1 hour 30 minutes
OPTION 2 – Directions to Grand Canyon South Rim via US-180
(recommended for good weather and daylight only)
Take Humphreys Street/Fort Valley Road/Highway 180 northwest to Highway 64. Take Highway 64 north directly to the main entrance to the South Rim of Grand Canyon National Park.
90 miles, 1 hour 30 minutes
OPTION 3 – Directions to Grand Canyon South Rim Desert View (East) Entrance via AZ-89
Take Route 66/Santa Fe Ave to its transition into AZ-89. Take Highway 89 north to Highway 64. Take Highway 64 west to the East Entrance of the South Rim of Grand Canyon National Park, nown as Desert View.
106 miles, 2 hours
---
Directions to Flagstaff from Grand Canyon South Rim
OPTION 1: Take Highway 64 south to I-40 East. Take I-40 East to Flagstaff.
OPTION 2: Take Highway 64 south to US-180 southeast.
OPTION 1: 90 miles, 1 hour 30 minutes; OPTION 2: 78 miles, 1 hour 30 minutes
---
Directions to Grand Canyon North Rim

Take Route 66/Santa Fe Ave to its transition into AZ-89. Take Highway 89 north to Highway 89A. Take Highway 89A west to Highway 67. Take Highway 67 south directly to the North Rim of Grand Canyon National Park (Please note: the North Rim is only open mid-May through mid-October.)
208 miles, 4 hours
---
Directions to Grand Canyon West Rim

Take I-40 east toward Kingman. Take exit 51 for Stockton Hill Road. Turn right at Stockton Hill Rd and continue 41.5 miles. Turn right at Pierce Ferry Road. Continue onto Diamond Bar Road. Turn left to stay on Diamond Bar Road. Continue straight onto Buck and Doe Road. Destination, the parking lot at Grand Canyon West Airport, will be on the right.
229 miles, 3 hours 45 minutes
Directions to Flagstaff from Las Vegas, NV
Take I-515/US-93/US-95 toward Henderson. Take Highway 93 south to I-40. Take I-40 east to Flagstaff.
251 miles, 3 hours 38 minutes
Directions to Flagstaff from Los Angeles, CA
Take I-605 north to I-210 east toward Barstow. Take I-15 north to Barstow. Take I-40 East toward Needles. Enter Arizona and continue on I-40 east toward Flagstaff.
468 miles, 6 hours 42 minutes
Flagstaff is located in Northern Arizona in the Verde Valley, about 151 miles north of Phoenix Sky Harbor International Airport. Want to know the driving distance between Flagstaff and other surrounding cities? See below for details.
Driving Distances to Flagstaff from Surrounding Areas:
Written by:
Christina Hecht
Tweet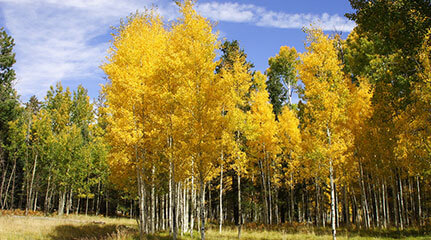 FLAGSTAFF, AZ WEATHER
Check out the weather conditions before you come. Winter and summer are popular, but there's no bad time to visit Flagstaff.
See Flagstaff Weather »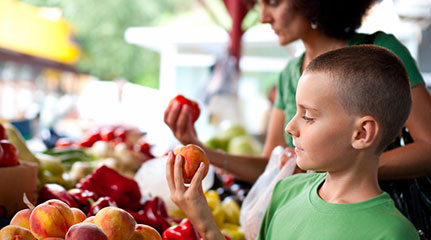 WHAT'S ON THE CALENDAR?
Our Flagstaff Event Calendar is full of festivals, workshops, art fairs, concerts and classes. Browse or add your event.
See the Event Calendar »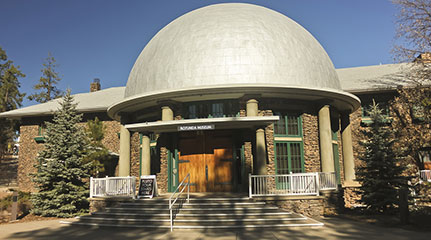 IF YOU ONLY HAVE ONE DAY TO SEE FLAGSTAFF
These are the essential things you MUST do to get the most out of your day trip.
Plan Your Day Trip Here »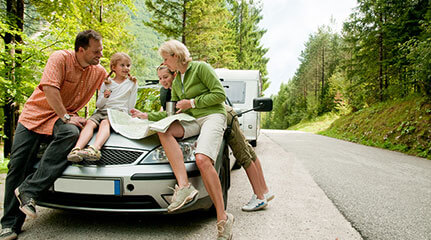 DRIVING DIRECTIONS TO FLAGSTAFF
Getting to Flagstaff is the first step. Driving is the most popular and practical way to get here.
Get Driving Directions from Nearby Cities »