October is one of the most enjoyable months in Flagstaff, AZ. Rock climbers love it for being Rocktober, beer drinkers love it because of Oktoberfest, film goers binge out on the Flagstaff Mountain Film Festival, and of course, there's Halloween! If you're looking for something fun to do this Halloween in Flagstaff, here's a list that could be enjoyed by the whole family. If you're not going with the family and you think you're a little too old for some of these events, Oktoberfest doesn't have to be over just because the festival was in the beginning of the month. A little responsible fall beverage could help keep you warm and entertained on these cold and spooky nights!
---
#1 Halloween Harvest - Downtown Flagstaff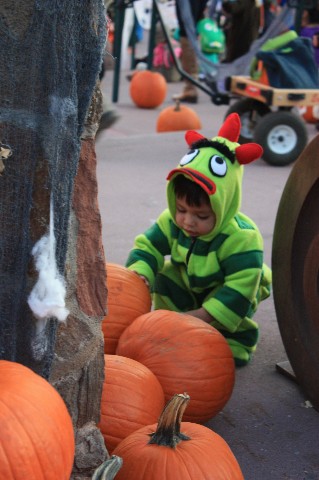 Halloween Harvest is one of the best places to go trick-or-treating. It was voted 2009's "Most Outstanding Community Event" by the Arizona Parks and Recreation Association because it's fun, it's safe and super entertaining for all ages. Even if you are not of trick-or-treating age anymore, go have dinner or a drink downtown and enjoy the view of little princesses and zombies walk by.
Festivities include the following:
Phantom Pumpkin Patch
Creepy Carnival Games
Chilling Crafts
Freaky Fashion Show
Twisted Trick or Treat Trail
Spooky Music
Children should bring their Halloween bags and visit local businesses for candy on our downtown Twisted Trick or Treat Trail.
---
#2 Haunted Flagstaff Walking Tour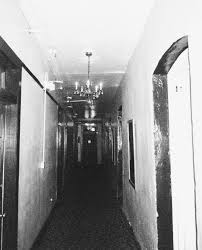 Did you know that Flagstaff is one of Arizona's most haunted areas? There are legends of bank robbers who didn't make out of here alive, saloon ladies of the night being murdered, interesting hotel guests who are yet to check out, among many other tales still being told because, well, paranormal things keep happening in locations throughout the town. Seasonal guided tours of the haunted buildings in historic downtown depart the Flagstaff Visitor Center throughout the month of October.
$10.00 per adult, children aged 7 to 17 is 7.00 per student, under 7 free w/adult.
General Day and Time Info:
Meet at Railroad station in downtown Flagstaff or in area agreed upon by reservation.
Phone: (928)814-7064
---
#3 Viola's Haunted House
Don't be fooled by Viola's beautiful flower garden as there's something not quite right growing there as well. They say it'g fear. This Flagstaff haunted house has over thirty actors who can't wait to terrify you. Every October, Viola's Flower Garden transforms into Viola's Haunted Garden, a premier spot for Halloween fun. You will find a variety of seasonal events, from the family-friendly Kids Carnival, to the terrifying Fear Garden haunted house. And of course, their yearly Pumpkin Patch!
Other Attractions:
Kids Night at the Haunted House
Kids Carnival
Pumpkin Patch
Fear Garden
Check their calendar for dates and times as each night varies a little.
---
#4 Pumpkin Walk & Fall Fest
FALL FAMILY FUN AT THE ARBORETUM!
Walk through the Arboretum fall gardens on trails lit by glowing Jack-o-Lanterns. Celebrate the fall season in your best costume with hayrides, hot cider and cocoa, apple bobbing, great food from Good Times Rolling Kitchen, spooky stories and performances by a campfire. Win prizes for pumpkin entries. This is our favorite family event for the year!
DON'T FORGET TO BRING YOUR FLASHLIGHTS!
Date: Saturday, October 22nd, 2016
Time: Pumpkin Walk & Fall Fest at the Arboretum 3:00– 8:00 PM
Cost: $10 adults, $8 seniors, and $5 kids ages 5 and up. MEMBERS ARE FREE!*
Bring and carve a pumpkin on 4pm – 7pm Friday, October 21st at Lumberyard Brewery! Have a beer and carve a pumpkin then receive $2 off entry fee on Saturday!
Arboretum Pumpkin Walk
---
#5 Pumpkin Patch Train - Grand Canyon Railway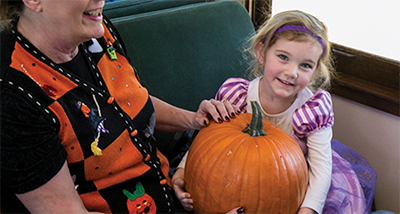 Kids and parents! Come dress up in your awesome Halloween costumes and catch the train to the great pumpkin event. The Grand Canyon Railway is taking you on a fairytale ride through the countryside to a secret pumpkin patch that can only be found by riding this train! (Think Hogwarts, so perhaps a flying car would work as well.) Pick a special pumpkin of your choosing and then be sure to decorate it when you arrive back at the Grand Canyon Railway Depot in Williams. There will also be a free, walk-through Haunted Train Car, a hay bale maze, and pumpkin arts and crafts at the Williams Depot.
Pumpkin pie, caramel apples, hot apple cider, hot chocolate, and other Halloween treats will be available for purchase at the Java on the Platform Snack Shop.
Grand Canyon Railway Pumpkin Patch Train
Phone: 1.800.843.8724
---
#6 Howly Owly Growly Fall Festival
Howl-O-Ween Express: Hop on the windowless bus that takes visitors through the drive-through animal exhibits. This is about as close as you are going to get to our animals, so you don't want to miss out. Patrons can howl with the wolves in the Alaskan Tundra & Arctic Wolf enclosure and watch the bison interact with a special Howl-O-Ween enrichment treat. Bus rides depart from the Fort Bearizona parking lot at 10:00 a.m., 12:00 p.m., 2:00 p.m. & 3:30 p.m. every Saturday and Sunday in October.
Growly Bear Cave:
Check out our array of jack-o-lanterns that adorn the inside of the Kindergarten Bear Cave.
Scarizona at Bearizona Haunted House:
Those who dare can walk through our super scary Haunted House (PG-13 Rated)
Raptor Show:
Guests should plan to catch an Owly Raptor Show at 11:00 a.m., 1:00 p.m. or 3:00 p.m., after visiting Fort Bearizona's baby and smaller animals.
Photo Ops:
Several areas of the park are decorated in different themes so visitors can take photos with their families. Pumpkin Decorating Contest:
Both adults and children can get in on this fun activity. Bring in a decorated pumpkin and drop it off at the ticket booth building (no purchase necessary). Bearizona staff will display each pumpkin in the gift shop. Pumpkins must be decorated externally only- NO CARVING.
Pumpkins must be dropped off at the Ticket Booth Building the first two weeks of October (1-16). Visitors will vote on what they think is the best pumpkin during the last two weeks of October (17-31). The winner will receive a one-time use carload pass to Bearizona, a $50 gift certificate to the Bearizona gift shop as well as a $50 restaurant voucher at either The Italian Bistro, Historic Barrel+Bottle House or Doc Holidays, all located in Williams, AZ.
Beaizona's Howly Owly Growly Fall Festival
---
#7 Historic Flagstaff Ghost Orb Tour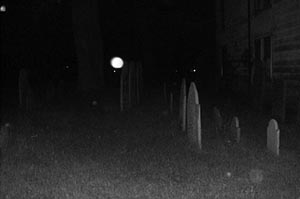 Track down some of Flagstaff's most haunted places with an opportunity to pursue the spirits of Flagstaff using digital media. Do you have the perfect camera? if so, let us show you what your camera can really do to find the mysteries of the past. Featuring Terre Reinhardt with more than a decade of downtown flagstaff haunted tours and Vincent with more than 6 years and numerous experiences in the location of spirits in the Flagstaff area. Don't miss this opportunity to see the unseen!
10.00 per adult, children aged 7 to 17 is 7.00 per student, under 7 free w/adult.
General Day and Time Info:
Meet at Railroad station in downtown Flagstaff or in area agreed upon by reservation.
Phone: (928) 814-7064
---
Written by: